Discover the best Florida Gulf Coast Beaches
This article may contain affiliate links. Whenever you buy something through one of these links, I may earn a small commission without any cost to you. I really appreciate it as it supports this site and my family. Thank you!
Why Florida has the best Gulf beaches.
Florida Gulf Coast beaches are some of the most beautiful beaches in the world with clear water and white sand beaches to explore. It is no wonder that many return to vacation year after year in this part of the United States.
The Florida Gulf Coast is well-known for its stunning beaches, crystal clear waters, and lush vegetation. It's a popular destination for tourists from all over the world.
Visitors come to enjoy the sunny weather, relax on the beach, and participate in a variety of outdoor activities perfect for nature lovers and water sports.
Whether you are vacationing with family, as a couple for a romantic getaway or girl's getaway, Florida's Gulf Coast is the perfect place to go.
Thank you for reading this post. Don't forget to subscribe! This way you never miss an update, travel deals, discounts and more!! Subscribe to the right------>
The best place for us to start our journey would be the Florida Panhandle and work our way down to the southwestern side of the state.
Florida Panhandle Beaches
When it comes to the Gulf of Mexico, the Florida coastline has the best beaches. At least in my opinion. Even though Gulf Shores should be included, it is in Alabama, and today we are focusing on Florida.
I have been on the other side of the Gulf in Texas and looking out at oil rigs is not my idea of a beautiful view. Exploring the miles of beaches and natural beauty that Florida's coastline offers is much my speed.
Pensacola Beach is a great place to start as we explore the Emerald Coast. This part of the state offers soft white sands and turquoise waters.
One of the farthest beaches on the western Florida coastline. The clear waters and inviting sugar-white sand of Pensacola Beach await your visit.
No matter what time of the year or season, beach lovers can enjoy the sunny, emerald green coastline. Winter visitors find comfort among its warmth that rarely dips below 60. There are also plenty of restaurants, bars and other entertainment to enjoy.
Between Pensacola and Panama City Beach, you will find Fort Walton Beach. South Walton which many think is located near Fort Walton Beach is actually farther southwest along the coastline.
Fort Walton Beach like its neighbors also boast white sand beaches and calm waters. Many beaches have picnic tables and volleyball courts and are a short drive from either Pensacola or Panama City Beaches.
Before we move further south, I want to mention Henderson Beach State Park. You will find this beautiful state park in Destin which is between Fort Walton and Panama City.
Henderson Beach State Park offers easy parking and a short walk to the beach. It is also one of the less crowded beaches in the area.
In this area of Florida, you will also find Gulf Islands National Seashore. Gulf Islands National Seashore is a federal preserve in Florida that protects natural resources and historic sights.
The Gulf Islands National Seashore includes both mainland areas and island destinations off the coast of Mississippi (such us Tutu beach). One exception though. Alabama's islands were originally considered for inclusion, but currently are not included in this category.
Enjoy learning about the history of the forts as well as the protected nature preserve. Swimming, bicycling, snorkeling, fishing, hiking, beach combing, bird watching, and boating may all be enjoyed in this beautiful beach destination.
Moving a bit east along the panhandle of Florida's Gulf Coast, and you will find yourself in Panama City Beach. Definitely one of the best Gulf Coast beaches and one I visit every year.
The beautiful white-sand beaches continue as well as shallow water for the kids to enjoy. The warm waters last well into October too which makes it one of the best beaches for a fall or early winter vacation.
PCB is by far my favorite beach. One of my favorite things to do is take a pontoon boat over to Shell Island.
Shell Island is an undeveloped, 7 mile barrier island located in St. Andrews St. Park. Fantastic snorkeling around this island as well as shelling.
As we continue south along the Florida Panhandle, we cannot leave Grayton Beach State Park off the list. Your first glance promises emerald water and a beautiful, pristine stretch of sand.
Grayton Beach is one of the most popular beaches in this portion of the coast. South Walton, mentioned above, is found at Grayton Beach.
Grayton Beach State Park is truly a 400-acre sliver of paradise. This beach park features pristine sugar sand beaches, a rare coastal dune lake and nature trails that wind through it.
The landscape of this beach town is steeped in history. Enjoy old growth scrub oaks mixed among beautiful magnolia trees. Perfect destination for all nature lovers.
Central West Florida Beaches
Continuing south along the shoreline finds us in Central West Florida. Beaches in this area continue to enjoy the sugar sand beaches, sand dunes and turquoise waters.
You can see the extended list of the best West Central Beaches here: Best West Central Florida Beaches for a memorable vacation
Clearwater Beach is our first stop. Near Tampa and St. Pete Beach, this beautiful beach has been named in the past as one of the best Florida beaches.
Enjoy 35 miles of white sand beaches not only at Clearwater Beach, but nearby Honeymoon Island State Park as well as Caladesi Island State Park.
When visiting, be sure to make time to visit Clearwater Marine Aquarium. This aquarium is dedicated to the rescue, rehabilitation and release of sick and injured marine animals including sea turtles.
Tampa and Tampa Bay are our next stops. If you are looking for a great time on your vacation, this is where you will find it.
Plenty of activities including water sports, fantastic dining and many public beach access points makes it easy to get your toes in the sand.
Love to fish? Sunshine Skyway Fishing Pier Bridge is located right on Tampa Bay.
Sarasota along with other beaches located in the Sarasota County, and its coastal areas include Siesta Beach, Lido Beach, Crescent Beach, and dog friendly Brohard Paw Park. These are all incredible beaches with loads of fun for the entire family.
Anna Maria Island, located off Bradenton near Sarasota is sure to be one of your favorite stops! Anna Maria Island is a treasure trove of natural beauty, partly covered with lush tropical rainforest as well as breathtaking beaches.
You'll find everything from pristine waterfalls to old growth forests on this barrier island that borders Manatee County in Florida.
Looking for a luxury getaway? There are several fantastic beach resorts located here including Zota Beach Resort on Longboat Key.
Southwestern Florida Gulf Beaches
Unfortunately as I write this, this portion of the state is recovering from Hurricane Ian. I will update as things develop.
But don't let that stop you from making future plans. Florida is a tourist state and efforts are already underway to bring the beach towns back to their glory days for you to visit.
Sanibel Island had its bridge wiped out during the hurricane but now has a temporary bridge in place as they rebuild.
Rebuilding is also happening on Captiva Island, Fort Myers Beach, Siesta Key Beach, Marco Island, Naples Beach as well as Venice Beach a bit north.
You will find some of the best beaches in the world as well as shelling opportunities on Sanibel and Captiva Islands. Tip: the best time to look for shells is during low tide.
This area is truly an excellent place to take the whole family, a romantic getaway or enjoy a girl's trip with your friends. But as I mentioned above, give it time as many of the beach cottages and homes were swept away.
Promises of emerald waters for you to visit will return, and the islands will welcome you in the future. But for now, the focus remains on rebuilding.
Siesta Key continues to be on the list of most beautiful beaches in the world. Turtle Beach located on Siesta Key is a nesting site for turtles and named for them.
Before we leave this part of the coast, I want to mention Keewaydin Island. This island is only accessible by boat.
The beaches are beautiful and the shells that you can find here include conch shells, starfish and sand dollars. Definitely make the time to head over to Keewaydin Island.
This brings us down to the tip of Florida on the edge of the Everglades. The Florida Everglades is located off I-75 south as you cross over Alligator Alley.
Definitely a fun road trip for the family. My girls were always glued to the car windows trying to spot alligators. And you will spot them.
Be sure to stop at Everglades National Park where you will see both the American Alligator and also crocodiles. Enjoy an airboat ride while you are in the area.
The Florida Keys while located with the Gulf on the western side and Atlantic on the eastern side will have its own article. It will include the best Florida Gulf Coast Beaches in the Keys. Yes there are that many!
Be sure to check out the best beaches on the east coast of Florida including Fort Lauderdale, Miami South Beach, Palm Beach, Daytona Beach, St. Augustine Beach, Jacksonville Beach and Amelia Island. Start here: Best beaches in Amelia Island Florida.
Upcoming Trip?
I like to use Booking for booking not only my hotels, but my tickets and rental cars as well. Makes life so much easier with only having to log into one location for my information.
Be sure to grab my travel tips to save you time and money. You'll also be entered into the weekly drawings.
Register here: Get 100 Travel Tips EVERY traveler should know PLUS entered into the weekly drawing.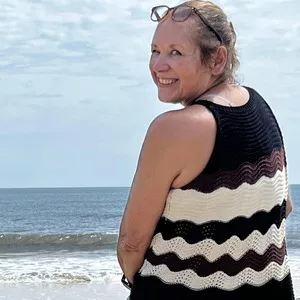 About Denise
Denise Sanger lives a life split between her love for fitness and her passion for travel particularly to the BEACH. Denise also has a love of marketing and lives in beautiful Suwannee County, Florida. You can find out more about Denise here: About Denise