Exploring Melbourne Beach Florida The Ultimate Travel Guide
This article may contain affiliate links. Whenever you buy something through one of these links, I may earn a small commission without any cost to you. I really appreciate it as it supports this site and my family. Thank you!
Experience all that Melbourne Beach, Florida has to offer! Plan your trip with this ultimate travel guide and enjoy the best of the coastal paradise.
Why Choose Melbourne Beach?
Melbourne Beach is home to pristine white-sand beaches and upbeat attractions, making it a popular travel destination for nature lovers and beach goers alike.
This was one of the first beaches outside of South Florida I explored when I first moved to the state. Enjoy learning all about one of the best places to explore in Melbourne Beach, Florida.
Where Is Melbourne Beach, Florida?
This beautiful beach town is on the Atlantic Coast side of Florida and is considered part of the Space Coast. It is south of Cocoa Beach and north of Vero Beach.
Thank you for reading this post. Don't forget to subscribe! This way you never miss an update, travel deals, discounts and more!! Subscribe to the right------>
Roughly 75 miles east of Orlando making it an easy add-on if you are on vacation in the center of the state.
Melbourne Beach is on an island off the coast of Florida. You can actually fly directly into the city of Melbourne as Melbourne International Airport is located in Brevard County.
Plan the Perfect Trip to Melbourne Beach.
If a beachside paradise is what you're looking for in your next vacation, Melbourne Beach is the best answer. This travel guide will make it a great experience for everyone.
From Melbourne Beach and other nearby beaches to boardwalks and restaurants to outdoor activities and other entertainment options, there's something for everyone.
Enjoy Nature Walks and Eco Tours.
Melbourne Beach is known for its wildlife, making it the perfect destination for nature enthusiasts. Nearby Maritime Hammock Sanctuary is 150 acres and provides you with the opportunity to explore the unique ecosystems here.
There is a hiking trail with 2 bridges, boardwalk over wetland areas, and an observation deck over a marsh pond. You can experience a variety of protected barrier island habitats including coastal strand, maritime hammock, and mangrove forests.
Also, nearby is Coconut Point Sanctuary which features an observation area of the Indian River Lagoon. Watch for dolphins, osprey, and shore birds.
You may also spot a juvenile sea turtle, but they are not easy to see by eye. These areas are definitely worth taking the time to visit if you love nature.
Spend a Day at the Beach or Paddleboarding.
Melbourne Beach is an excellent spot for beach and water sports. The beaches are clean and wide, with plenty of space for everyone to spread out and enjoy the warm sand beneath your toes.
Spessard Holland South Beach Park is one of the prettiest beaches in Melbourne. This 6.5-acre community beach park with seasonal lifeguards is popular for family outings.
It features a 100′ dune boardwalk and small pavilions, has plenty of parking, restrooms and showers. It is 2-miles from its sister park, Spessard Holland North Beach Park.
Spend a relaxing day lounging on the beach or exploring the coastline by renting paddleboards available at local rental service companies in town.
Take a leisurely tour around the island, checking out all the majestic birds that call this place home along the way.
If you're looking to venture further out into the Atlantic Ocean, you can always rent a kayak from one of the many services in town as well.
Other options are to rent a boat, jet ski, or take a boat tour to enjoy offshore fishing.
Explore Historic Sites and Monuments.
Melbourne Beach is actually the oldest beach community in Brevard County. A few stops you might enjoy are the Melbourne Beach Pier operating since 1888, Melbourne Beach Chapel active congregation since 1892 or the Ryckman House which acts as the museum.
From there, head over to The Brevard County Veterans Memorial, a solemn tribute to those who lost their lives in service.
Finally, visit the Indian River Lagoon Preserve State Park. This beautiful state park is located on a barrier island and protects Indian River.
The most biologically diverse estuary in North America, the lagoon has been designated an Outstanding Florida Water and an Estuary of National Significance.
Dining, Shopping and Nightlife Around Town.
Melbourne Beach isn't just a paradise for sightseers and sunbathers. With an expansive array of restaurants, shops and leisure venues, the area is ideal for visitors who want to experience more than nature.
There are some cute, funky shops you will definitely want to be sure to visit including Black Dog Bait & Tackle. Much more than just bait.
For a night out on the town, the options are many. Choose a casual eatery right on the beach or more upscale steak and lobster restaurant.
I recommend checking here for what is current options including days and times: Melbourne Beach Dining
Where to stay in Melbourne Beach Florida?
Ready to visit? Great! Choose from well known names like the Hilton or smaller BNB's. Check availability here: Melbourne Beach Accommodations
Prefer vacations rentals? You will find those here as well. Choose between resorts or homes steps from the water. Check availability here: Melbourne Beach Vacation Rentals.
Melbourne Beach holds a special place in my heart. I'm sure it will in yours also.
Upcoming Trip?
I like to use Booking for booking not only my hotels, but my tickets and rental cars as well. Makes life so much easier with only having to log into one location for my information.
Be sure to grab my travel tips to save you time and money. You'll also be entered into the weekly drawings.
Register here: Get 100 Travel Tips EVERY traveler should know PLUS entered into the weekly drawing.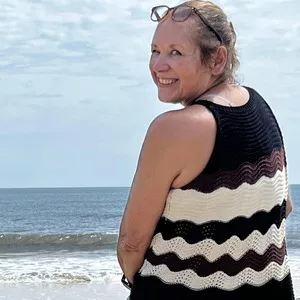 About Denise
Denise Sanger lives a life split between her love for fitness and her passion for travel particularly to the BEACH. Denise also has a love of marketing and lives in beautiful Suwannee County, Florida. You can find out more about Denise here: About Denise