Destinations travelers love this month January 2023
This article may contain affiliate links. Whenever you buy something through one of these links, I may earn a small commission without any cost to you. I really appreciate it as it supports this site and my family. Thank you!
For many travel in January isn't a thing unless they're planning a vacation to a warm place. But there are so many other fantastic options for travel. Below are the destinations travelers love this month January:
Yellowstone National Park, Wyoming. Wyoming may not have been the first place to pop into your mind for a January vacation but it's definitely one to consider. Yellowstone National Park was established in 1872 and one beautiful national park. From bison to geysers to hot springs, there is so much to enjoy all year round but definitely one to consider for January. If you plan to hike, be sure to take time to plan as there are literally so many amazing trails to choose from.
Punta Cana, Dominican Republic. I actually was in Punta Cana in January and it was one of the best vacations. We stayed at an all inclusive resort that was a fantastic bargain for what we paid. Easy to get into the country and we had a van waiting to take us to the resort.
New York City, New York. Another city you may not have at the top of your list for January but you'd be pleasantly surprised. I've been to NYC many times during the winter months. It's easier to see many attractions as the crowds aren't as large as they were during the holidays. Hotels aren't quite as expensive either. Be sure to check on travel alerts as far as Covid before booking.
Thank you for reading this post. Don't forget to subscribe! This way you never miss an update, travel deals, discounts and more!! Subscribe to the right------>
Orlando, Florida. So much more than simply amusement parks but Disney, Universal, Sea World and many more are available should you choose to visit them. I really enjoy the restaurants and shopping in Orlando. There are also many beautiful parks and lakes nearby to explore.
Vermont. What a beautiful state Vermont is! It's also a ski lover's paradise. If you can leave the slopes for a bit, be sure to visit Ben & Jerry's and take the factory tour.
Finally heading south, be sure to visit all of the famous beaches from Siesta Key to Fort Lauderdale to Miami to Key West. Check this post for more of the best locations to visit in Florida during January: Best places to visit in Florida in January
Montana. Just like Wyoming, you're sure to fall in love with Montana and it's unspoiled beauty. Explore Glacier and again Yellowstone National Parks. Spend the day on the slopes. And at the end of the day be sure to visit one of the many hot springs in the state.
And of course, back to Florida to finish the list. SO many different options in Florida for a vacation in January. In the northeast, you will have lower temps but that makes it perfect to explore the many springs, parks, and other natural attractions in the area. Manatees also are in the springs and rivers on the cooler days. Crystal River's Three Sisters Spring is a must see.
Moving to the center of the state, and you have Tampa/St. Pete on the west coast and Cocoa Beach/Daytona Beach on the East coast. Both beautiful beaches to explore.
Upcoming Trip?
I like to use Booking for booking not only my hotels, but my tickets and rental cars as well. Makes life so much easier with only having to log into one location for my information.
Be sure to grab my travel tips to save you time and money. You'll also be entered into the weekly drawings.
Register here: Get 100 Travel Tips EVERY traveler should know PLUS entered into the weekly drawing.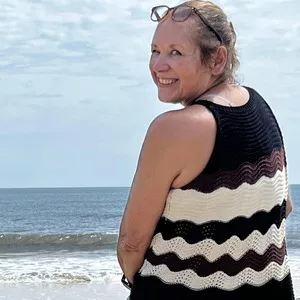 About Denise
Denise Sanger lives a life split between her love for fitness and her passion for travel particularly to the BEACH. Denise also has a love of marketing and lives in beautiful Suwannee County, Florida. You can find out more about Denise here: About Denise