Best Places to Kayak in Miami: Discover Your Ultimate Adventure!
This article may contain affiliate links. Whenever you buy something through one of these links, I may earn a small commission without any cost to you. I really appreciate it as it supports this site and my family. Thank you!
South Florida may be known for its sun-soaked beautiful beaches and vibrant nightlife, but you will also find some of the best places to kayak in Miami.
With its stunning shorelines, diverse wildlife, and a myriad of unique waterways to explore, you'll never run out of breathtaking kayaking experiences in this tropical paradise located in South Florida.
As you glide through the crystal-clear waters of Miami, you'll feel a sense of adventure and exhilaration. From serene mangrove tunnels to lively urban canals, Miami offers countless kayaking environments suitable for both beginners and experienced paddlers.
Get ready to embark on an unforgettable journey as Miami's natural beauty unfolds before your very eyes and discover some of the best places to kayak in this thriving coastal metropolis.
Thank you for reading this post. Don't forget to subscribe! This way you never miss an update, travel deals, discounts and more!! Subscribe to the right------>
But don't stop in downtown Miami. There are so many amazing places to kayak located a short drive away.
Everglades National Park to the Florida Keys down through Key West as well as beautiful places located in several Florida State Parks. Also, nearby in Fort Lauderdale and also on the Intracoastal Waterway offer many exciting waterways to explore.
With so many options available, it might feel overwhelming to choose your next paddling adventure in Miami. Don't worry; we've got you covered!
Whether you prefer to kayak, canoe or your crew loves to use paddle boards, there is a kayak trail for you to explore.
Miami offers some of the best ways to see the waterways of Florida as well as some of the best water sports opportunities in the Sunshine State.
All skill levels can enjoy paddling along the rivers, ocean, canals and more. If you are a new to kayaking, you may want to choose one of many kayak tours outfitters offer in South Florida.
A guided tour is a great way to enjoy the scenery with more advanced kayakers who not only ensure your safety but will also point out things you may miss in Miami's unique marine ecosystem.
In this article, we will guide you through the best spots to kayak in Miami, ensuring you have the ultimate experience in this sun-drenched wonderland while staying safe and having fun.
There is some overlap in the paddling trails. I have included information for kayak tours and more at the bottom of this article to help you plan your getaway.
So grab your paddle, put on your life jacket, and let's dive into the best places to kayak in Miami.
Oleta River State Park
Get ready to be amazed by the natural beauty and thrilling kayaking experience at Oleta River State Park! As Florida's largest urban park, it offers you a fantastic opportunity to escape the city's hustle and connect with nature as you explore this scenic river.
At Oleta River State Park, you'll find a wide variety of kayak trails suitable for both beginners and experienced paddlers. Don't have your own kayak? No worries! There are on-site kayak rentals available, so you can explore the park's serene waterways without any hassle.
The park's mangrove forest provides an enticing backdrop for your kayaking adventure. You can meander through the winding, maze-like channels, as the dappled sunlight streams through the dense canopy above, catching glimpses of unique wildlife like manatees, herons, and even dolphins.
It's a great place  to get away and experience the best that Miami's natural landscape has to offer! So grab your paddle, sunscreen, and sense of adventure, and get ready to be enthralled by the immersive beauty of Oleta River State Park.
Virginia Key
Virginia Key is a fantastic destination for those that love to kayak or use a stand-up paddleboard like yourself! Its crystal-clear waters, lush mangroves, and stunning vistas create a truly memorable paddling experience.
Get excited about your next adventure in this remarkable part of Miami. As your paddle slices through the water, you'll be immediately captivated by Virginia Key's thriving marine life.
Don't be surprised if you spot dolphins, manatees, or sea turtles roaming nearby in their natural habitat; consider yourself lucky to be sharing this space with these amazing creatures.
Please keep in mind that these wild animals in their natural habitat should not be disturbed in any way. Many are protected and on the endangered species list. 
Make sure you don't skip the opportunity to explore the tranquil mangrove channels. These serene waterways create a labyrinth of natural beauty that's just waiting to be discovered by you.
As you paddle around the twists and turns, feel yourself becoming one with nature as the soothing sound of water gently gurgling and birds singing envelope your senses.
Adventure awaits at Virginia Key! Grab your kayak and feel the excitement as you explore its pristine waters and vibrant ecosystem. It's undoubtedly an experience you'll treasure for years to come. If you need to rent equipment, stop at the Virginia Key Outdoor Center. (May not be open; check first) 
Get excited to hit the water at Matheson Hammock Park located in Coral Gables! This exceptional spot offers you a fantastic kayaking experience in Miami. Surrounded by lush mangroves, smooth waters, and striking landscapes, this park will leave you in awe and coming back for more.
As you paddle through the calm, you'll revel in the beauty of nature and its serenity. Don't be surprised if you spot a variety of marine life and wide variety of birds including migratory birds during your journey. This popular spot gives you a wonderful opportunity to witness wildlife up close.
For beginners, Matheson Hammock Park provides an excellent starting point. The shallow and calm waters are perfect to learn and practice your kayaking skills. Plus, rentals are readily available near the park, so there's no need to worry about bringing your own equipment.
Experienced kayakers will also enjoy exploring the park's surroundings, paddling through the winding mangrove tunnels, and maybe even venturing out to Biscayne Bay.  
Remember to stay within the park's boundaries and respect nature; stick to designated areas and follow any posted regulations. This way, you can ensure a memorable and enjoyable time at Matheson Hammock Park. 
Key Biscayne
Key Biscayne is a kayaking paradise you don't want to miss! With crystal-clear waters, stunning beaches, and diverse wildlife, it offers some of the best spots for kayaking in Miami.
One must-visit location is the Crandon Park, where you can explore the lush mangrove forests and serpentine canals. As you paddle through the calm waters, keep an eye out for manatees, sea turtles, and an array of fish species.
The beautiful views and tranquil atmosphere make it a fantastic place for a relaxing paddle.
From Crandon Park, venture out to the unforgettable Bear Cut Preserve. This area is full of breathtaking scenery and wildlife.
When you approach the shallow waters near the preserve, you'll likely spot some of Miami's most fascinating marine creatures like stingrays, dolphins, and perhaps even a small shark in the distance!
Another outstanding place to kayak is Bill Baggs Cape Florida State Park. The park features picturesque views of Biscayne Bay and the historic Cape Florida Lighthouse. Paddle along the shoreline, and take in the incredible sight of a variety of wading birds and gorgeous Miami sunsets.
Finally, be sure to check out the rental shops and guided tours available at Key Biscayne for a hassle-free experience.
They offer a wide range of equipment and experienced guides who can show you the hidden gems of the area while ensuring your safety. They can even provide tailored tours based on your skill level and preferences.
Biscayne National Park
Get ready to explore the wonders of Biscayne National Park! With its crystal-clear turquoise waters, you'll be mesmerized by the kayaking experience it offers.
Paddle through beautiful mangrove forests, glide across calm waters, and be surrounded by a stunning and diverse aquatic ecosystem.
As you kayak around the park, you'll come across numerous fascinating spots. Don't miss paddling alongside the edges of the colorful coral reefs.
Here, you'll have a chance to witness the vibrant underwater life up close. Keep an eye out for sea turtles, manatees, and a plethora of fish species swimming around the reefs.
Another highlight of Biscayne National Park is exploring the historic shipwrecks that rest beneath the water's surface. Just imagine the stories they hold!
While many of these wrecks are accessible only to divers, you can still manage to see some of them closer to the surface as you paddle by.
If you're an adventurous soul, consider exploring the park's numerous small islands. Experience the serene beauty of these isolated gems by paddling from one to another, discovering their unique charm, flora, and fauna.
Biscayne Bay and Biscayne National Park are not on the open water of the Atlantic Ocean, but you still must be prepared for choppy waters and boaters on the one of the most beautiful national parks in the United States.
What to bring: A kayak, life jacket, paddle, sunscreen, hat, and plenty of water
Best time to visit: November to April, when the weather is cooler and drier
When planning your trip, remember that a significant part of the park is reachable only by water. Personally, I believe you should be an experienced kayaker if you plan to paddle to the islands located in the Bay unless you're with an outfitter.
Make sure to pack all necessary essentials and embark on an unforgettable kayaking adventure that awaits you at Biscayne National Park.
Crandon Park
Get ready to experience the beauty of nature at Crandon Park – an amazing spot for kayaking in Miami! As you paddle through the crystal clear waters, you'll be surrounded by breathtaking scenery and an abundance of wildlife.
One of the main attractions at Crandon Park is the serene mangrove coves. These natural formations provide a calming shelter from the bustling city, making it a perfect place for both beginners and experienced kayakers alike.
As you glide through the calm waters, keep your eyes peeled for some majestic manatees and playful dolphins that frequent the area.
There's more than just beautiful scenery and wildlife to admire at Crandon Park. You'll also be fascinated by the historical landmarks that are spread throughout the area. While you're kayaking, don't forget to check out the famous Cape Florida Lighthouse, which offers an enlightening glimpse into Miami's history.
At Crandon Park, you can venture a bit further to explore the nearby sandbars and islands. Paddle your way to Bear Cut Preserve or the popular Chicken Key, where you can indulge in some bird watching or spend some time relaxing on the sandy beaches.
Here are some highlights of Crandon Park kayaking experience:
Serene mangrove coves and clear waters
Abundant wildlife like manatees and dolphins
Historical landmarks like Cape Florida Lighthouse
Exploring nearby sandbars, islands, and preserves
Remember to bring your sunscreen, hat, and a few bottles of water to ensure a comfortable kayaking adventure. With its stunning natural beauty, abundant wildlife, and interesting historical sites, Crandon Park is an excellent choice for your next kayaking excursion in Miami.
Loxahatchee River
This beautiful and very scenic river is protected and offers some of the best options for kayaking in the Miami area. A bit farther north in Palm Beach County, It is a good place to see alligators, turtles and more. You have several options on this beautiful river.
Choose a short kayaking tour or opt for a day long paddle. Enjoy the cypress trees along the trail as well as animals not located anywhere else but South Florida.
There are several rental options for equipment at Riverbend Park. The beginning of the trail offers crystal-clear water where you can see the white sand bottom of the river. If you are planning on renting equipment, you may want to choose a glass bottom kayak so you can see all the wildlife this great spot offers on the river.
If you choose the longer paddle trip, be ready to portage or carry your kayaks, canoes or paddle boards over logs. This kayaking destination will not disappoint.
Pelican Harbor Marina
Pelican Harbor Marina is an amazing spot to embark on your kayaking adventure in Miami! As soon as you arrive, you'll be surrounded by incredible views of the Miami skyline, Biscayne Bay, and nearby islands. It's the perfect starting point for experiencing the exceptional beauty and excitement that Miami waters have to offer.
The marina offers convenient access to Biscayne Bay and some favorite local spots for kayaking lovers, such as the nearby Oleta River State Park and Haulover Sandbar. As you paddle through the calm waters, you'll have plenty of opportunities to spot a wide variety of marine life, including dolphins, manatees, and various tropical fish species.
Pelican Harbor Marina provides a safe and well-maintained launching area, and they even offer kayak rentals for those who don't bring their own vessels. The friendly staff will ensure that you have all the required safety equipment, giving you peace of mind as you begin your journey.
Remember to pack your sunscreen, water bottle with plenty of water, as Miami weather can be hot and sunny. Now, get ready to embark on a memorable kayaking, canoeing or paddle boarding experience at Pelican Harbor Marina—you won't be disappointed!
Information To Help You Plan Your Kayak Trip In Miami
Nature Centers
No matter which destination you choose, Miami and all of South Florida is the ideal place to enjoy water activities including kayaking and canoeing. Many of the above destinations have a nature center which will provided additional information for your paddle trip. 
Paddling With Children
If you plan to rent equipment, consider clear kayaks if they are available.  If you plan to kayak with young children, you might want to consider a canoe over a single kayak. That gives you and the kids more room as you explore the waterways of Southern Florida. 
Kayak Tours, Rentals, Information
Oleta River State Park: Rentals & Tours: Oleta River Outdoor Center
Virginia Key Rentals & Tours: Virginia Key Outdoor Center (was closed at time of writing, but hopefully reopened.)
​Matheson Hammock Park: Park Information
Key Biscayne, Biscayne National Park: Kayak and Canoe Information
Crandon Park: Park Information (Also see Biscayne National Park information above.)
Loxahatchee River: Kayak Tour Guides
Pelican Harbor Marina: Rental Information
Upcoming Trip?
I like to use Booking for booking not only my hotels, but my tickets and rental cars as well. Makes life so much easier with only having to log into one location for my information.
Be sure to grab my travel tips to save you time and money. You'll also be entered into the weekly drawings.
Register here: Get 100 Travel Tips EVERY traveler should know PLUS entered into the weekly drawing.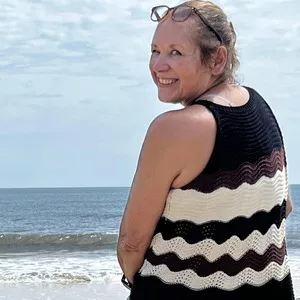 About Denise
Denise Sanger lives a life split between her love for fitness and her passion for travel particularly to the BEACH. Denise also has a love of marketing and lives in beautiful Suwannee County, Florida. You can find out more about Denise here: About Denise