Best Beach Theme Jello Shots For Fun Parties
This article may contain affiliate links. Whenever you buy something through one of these links, I may earn a small commission without any cost to you. I really appreciate it as it supports this site and my family. Thank you!
Best Beach Theme Jello Shots
Jello shots! What is more fun at a party than jello shots? They are so much fun and you can literally create so many variations. My favorite? The best beach theme jello shots listed below.
Can I take jello shots to the beach?
Jello shots do need to be refrigerated and will keep in the refrigerator for two days, they must be kept cold while at the beach. No worries. I take my Yeti Cooler Bag, and it keeps the jello shot perfectly chilled throughout the day.
Can I get drunk on jello shots?
Yes you can get drunk on jello shots especially if you do not often partake in alcoholic beverages. Roughly four jello shots equals one shot of alcohol such as rum, vodka, tequila, and others.
How long before a party should you make your jello shots?
It all depends on how much alcohol you put into the mixture but plan on 1.5 to 2.5 hours until your jello shots are firm.
Thank you for reading this post. Don't forget to subscribe! This way you never miss an update, travel deals, discounts and more!! Subscribe to the right------>
What is the best alcohol for jello shots?
Vodka and white rum are probably the best as far as color and vodka lets the flavors shine through. But you can also use tequila, whiskey, gin and even brandy.
How many jello shots can you make with one box of jello?
One small box of jello with two cups of liquid will yield roughly 15 jello shot.
Beach Theme Jello Shots
Now that we got the particulars out of the way, let's talk about beach theme jello shots! You know the beach is my FAVORITE place to be so of course I'm excited about beach theme jello shots. Aren't you too?
I live in the middle of a part of Florida that is very rural, so I get a lot of what I need online. My favorite for delivery of alcohol is Drizly.com Super easy to place your order and have it delivered to your door.
My favorite jello shots are:
Bahama Mama Jello Shots
Caribbean Blue Jello Shots
American Flag or Red, White, & Blue Jello Shots
Ocean Margarita Jello Shot
Watermelon Jello Shots with Malibu Rum
Pina Colada Jello Shots
Folks watch for my cooler when I join the party at the beach. And I never have jello shots to take back home. They are that delicious.
I'm not going to put the recipes here EXCEPT for the Bahama Mama recipe because it's my favorite 😉 The rest because they are really easy to look up and then make. Memorial Day, 4th of July and even Labor Day are fantastic days for making the Red, White, & Blue Jello Shots. Have fun!
Bahama Mama Jello Shot Recipe Ingredients:
Bahama Mama
1 cup boiling water.
3 ounces watermelon jello.
⅓ cup Malibu Coconut Rum.
⅓ cup peach schnapps.
p.s. these jello shots go GREAT with the Tropical Beach Inspired Chicken Wings I shared with you. Didn't see it? Get the recipe here: Tropical Beach Inspired Chicken Wings
p.s.s. Ready to plan your vacation? First thing I do is visit TripAdvisor. I check the reviews for everything from restaurants, what to do, where to stay and more.
Upcoming Trip?
I like to use Booking for booking not only my hotels, but my tickets and rental cars as well. Makes life so much easier with only having to log into one location for my information.
Be sure to grab my travel tips to save you time and money. You'll also be entered into the weekly drawings.
Register here: Get 100 Travel Tips EVERY traveler should know PLUS entered into the weekly drawing.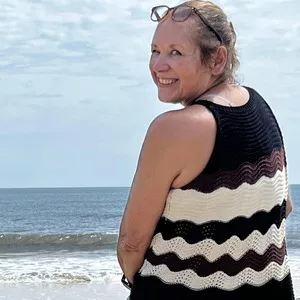 About Denise
Denise Sanger lives a life split between her love for fitness and her passion for travel particularly to the BEACH. Denise also has a love of marketing and lives in beautiful Suwannee County, Florida. You can find out more about Denise here: About Denise