Best Palmetto Florida Beaches
This article may contain affiliate links. Whenever you buy something through one of these links, I may earn a small commission without any cost to you. I really appreciate it as it supports this site and my family. Thank you!
Best Palmetto Florida Beaches
Many people first ask where is Palmetto, Florida then they ask if Palmetto, Florida has beaches? Absolutely! Palmetto, Florida has some of the most beautiful beaches on Florida's Gulf of Mexico. I have a list of the best Palmetto Florida beaches for you below.
Where is Palmetto, Florida?
Palmetto, Florida is on the Gulf Coast of Florida. It is a short drive from St. Petersburg and Tampa Bay.
Can you swim in Palmetto Beach?
Palmetto Beach is one of the best public parks in the Tampa area located in DeSoto Park with easy access to some of the most pristine beaches in Florida.
Is Palmetto, Florida expensive?
Palmetto and Palmetto Bay, Florida has some of the most expensive new homes in Florida. You will also find beautiful golf courses and a historic downtown that has the area's main downtown shopping.
Thank you for reading this post. Don't forget to subscribe! This way you never miss an update, travel deals, discounts and more!! Subscribe to the right------>
Highland Homes is the local builder if you are in the market for a new home. Check their Facebook page for more details regarding home building in this area or contact the volunteer Advisory Board for more information.
What is Palmetto, Florida famous for?
Palmetto, Florida is one of many small towns in the Bradenton area with close proximity to Bradenton Beach and Anna Maria Island.
Where are the best Palmetto, Florida beaches?
There are many beautiful beaches in this area on the Gulf Side. Nearby you will find Siesta Key, Manatee Public Beach and more that I will go into detail below.
What to do in Palmetto, Florida?
In addition to the beaches, be sure to visit the Manatee County Agricultural Museum. This museum is located at 1015 6th St. West, Palmetto, FL 34221. Check hours before visiting.
The downtown area is a shopper's paradise and includes some of the area's best dining. You will also find Outlet Shopping in nearby Ellenton and Bradenton.
Where to find the best Palmetto, Florida beaches.
Now that you have an idea where Palmetto, Florida is it is time to talk about the beautiful beaches in the area.
Palmetto Avenue Beach
Palmetto Avenue Beach is one of the best beaches in Palmetto, Florida and should be on the top of your list to visit. This beach is located on breathtaking Anna Maria Island.
Beautiful crystal clear water many say when they visit is the cleanest on the Gulf Side of Florida. Soft white, sugar sand. There are, however, no facilities or lifeguards.
Bean Point, Anna Maria Island
While on Anna Maria Island, be sure to venture to Bean Point located on the northern point of the island. Many people do not know this beach is on the island as there are not public signs.
Look for the small, white public beach access signs. You will find some of the most breathtaking views from this relaxing beach. Search for the Sunshine Skyway Bridge and Egmont Key State Park.
Holmes Beach
Also located on Anna Maria Island is Holmes Beach. Holmes Beach is one beach you can take your dogs with you for the day.
Look for the Paw Playground and let your four legged friends off leash. There is also a boardwalk at Holmes Beach that dogs are allowed on.
Manatee Public Beach
Manatee Public Beach is located just off Gulf Drive in Holmes Beach. On this beautiful 7 acre beach, you will find a café, gift shop, grills and picnic tables.
It is open to the public from sunrise until about 10 p.m. There is free parking but parking spots are limited so arrive early.
Coquina Beach
Rounding out the list of best beaches in Palmetto, Florida is Coquina Beach. This gorgeous beach is a 22 acre beach located in Manatee County on the southern end of Anna Maria Island.
Lifeguards are on duty at this beach, and it is also one of the best places to snorkel on the Gulf Coast. Look for the perfect shell or sand dollar for your collection.
Lido Beach or Siesta Key Beach
Nothing says beach vacation like Lido Beach or Siesta Key Beach (Siesta Beach). These two beaches are located south of Sarasota and are must visit beaches when in the area.
Siesta Key Beach has repeatedly been named the best beach in the USA. In my opinion? It has become too crowded but definitely should be a stop for you.
Lido Public Beach is north of Siesta Key and also on an island. Both of these beaches are white sugar sand with beautiful turquoise waters.
Ready to plan your Florida Gulf Coast vacation in Palmetto, Florida? I recommend Tripadvisor here: Palmetto, Florida Beach Vacations. I love Tripadvisor because of the honest reviews.
You will also find the best shelling beaches in this area. Grab the list here: Best Shelling Beaches in Florida Be sure to bring your Seashell Shelling Bag!
Upcoming Trip?
I like to use Booking for booking not only my hotels, but my tickets and rental cars as well. Makes life so much easier with only having to log into one location for my information.
Be sure to grab my travel tips to save you time and money. You'll also be entered into the weekly drawings.
Register here: Get 100 Travel Tips EVERY traveler should know PLUS entered into the weekly drawing.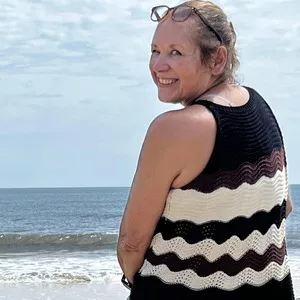 About Denise
Denise Sanger lives a life split between her love for fitness and her passion for travel particularly to the BEACH. Denise also has a love of marketing and lives in beautiful Suwannee County, Florida. You can find out more about Denise here: About Denise