How Far Is It To Key West? What You Need To Know And Plan
This article may contain affiliate links. Whenever you buy something through one of these links, I may earn a small commission without any cost to you. I really appreciate it as it supports this site and my family. Thank you!
Thinking about a getaway to Key West? Wondering how far is it to Key West anyway. This is for you!
The Florida Keys are heaven on earth and the perfect place for a mini-vacay but the answer to this question – is not so easy. It is a great place for water activities, romantic getaways, family vacations, and nothing like it elsewhere in the Continental United States.
No time to read the whole article? I recommend bookmarking this page, then coming back before planning your trip. Also be sure to visit the Key West Section on my site here: Ultimate Key West Travel Guide You can also jump to the section you are most interested in below from this table of contents:
Driving from Key Largo: How Far Is It From Key West?
The Florida Keys are usually defined by mile markers. For example, Mile Marker 105 is the beginning of the Overseas Highway at Key Largo. The Southernmost Point is Mile Marker 0, but Key West also reflects Mile Marker 5.
Thank you for reading this post. Don't forget to subscribe! This way you never miss an update, travel deals, discounts and more!! Subscribe to the right------>
Personally? This is one of the best road trips. It is not a straight line but if you have time, it is well worth it.
The distance between Key Largo and Key West is 100 mile drive with a travel time of about 2.5 hours depending on traffic. It's important to remember that a Florida Keys Road Trip is completed on mainly a two-lane highway. One lane going in and one lane going out.
Florida City which is where the Florida Turnpike and toll roads end is roughly 28 miles from Key Largo and about 35-minute drive.
Not only one of the best places to visit but there is so much to see as you travel into the Keys. You will drive over a series of bridges that connect the islands including the seven mile bridge that leaves nothing but beautiful blue water on either side.
I really recommend Get Your Guide before your trip. It will provide you with so much information on what to see and do while in Key West. You can get it here: Key West Get Your Guide
The original bridge was built in the early 1900s and the later bridge was built in the early 80s. The distance is fudged just a bit. The actual driving distance of the bridge is 6.79 miles and takes about 10 minutes to cross
Fun fact. The old bridge on the Florida Keys Overseas Highway was shown being blown up in the movie, True Lies featuring Arnold Schwarzenegger and Jamie Lee Curtis. The truth though is that a miniature replica was what was used in the movie.
I do need to mention though, that it is very important you check the weather before vacationing in the Keys. During the late summer months, the chance of a hurricane that may come across the Atlantic Ocean is quite high. Hurricane season is June 1 through November 1.
Road Trip Sights Along The Overseas Highway
There are so many things to see and do as you travel toward Key West and Duval Street. John Pennekamp Coral Reef State Park, one of the most beautiful Florida State Parks, and Key Lime Pie are a few things that Key Largo is known for.
If you love to snorkel, I absolutely recommend stopping at Pennekamp and taking a tour over to coral reefs for snorkeling or scuba diving adventures.
See all the marine life including tropical fish, sea turtles, dolphins, and more. I recommend the guided tour on the glass bottom boat or kayak through the mangroves if you choose not to go out to the reef.
Even if you can only swing a weekend in Key Largo, it is very much worth it to see the first undersea park. It is an easy day trip from Miami South Beach or Fort Lauderdale a great spot to stop.
After Key Largo, you have Tavernier, Plantation Key, and several other small islands. Some islands you will cross while others you will see in the Gulf of Mexico or the Atlantic Ocean.
Islamorada and Marathon are great spots to stop for a snack, lunch, or dinner. Be sure to try conch fritters if you have a chance. So fresh in the Keys and quite good. One of the best things about the Keys, is you just might find live music as well as good food and a good time.
The Turtle Hospital is on Marathon. This is a working hospital for the rescue, rehabilitation, and release of sea turtles back to their natural environment.
As you move into the lower keys, you will drive through Little Duck Key, Big Pine Key, and other smaller islands. Be sure to leave time to stop off at Little Duck Key, which is where Bahia Honda State Park is located.
Bahia Honda State Park is home to some of the most beautiful beaches in the world. Folks often ask what is the best time to visit these state parks. Honestly? There is no bad time as the Florida Keys are fairly warm year round.
Most Florida State Parks and State Forests have picnic tables and restrooms. A great way to get out and stretch your legs after eating lunch under palm trees.
One thing to note that goes back to my comment above regarding hurricane season. My last visit to this park was right after a hurricane went through. Hurricanes churn up the waters and as a result, there was a lot of smelly seaweed and seagrass on the beach.
Before we leave the road trip portion, I do want to mention watching your speed limit. Your Key West drive could go south very quickly with a traffic ticket.
The speed limits do vary throughout the Florida Keys. I really would not want your first stop to be that of a car on the side of the road getting a ticket.
Tip: If you plan to drive, a few of the best stops BEFORE you hit the Florida Keys are the national parks. Everglades National Park as well as Biscayne Bay National Park are easily accessible before you enter the Florida Keys.
Flying To Key West International Airport
I am not able to give you flight time for every airport but can tell you from Miami International Airport as well as Ft Lauderdale International Airport, that a commercial flight is about one hour.
I'm also not sure of the flight distance from these airports but the time from point A to point B is definitely shorter as the crow flies so to speak. The shortest distance of course would be from Miami or Fort Lauderdale.
To give you better information, I have checked flying times from the most popular airports based on commercial airline information:
Atlanta: 1 hour 55 minutes
Charlotte: 2 hours 15 minutes
JFK/LGA/New York: 3 hours 25 minutes
Washington DC: 3 hours 25 minutes
Chicago: 4 hours 51 minutes
Dallas: 4 hours 50 minutes
Houston: 4 hours 20 minutes
Las Vegas: 7 hours 2 minutes
Los Angeles: 6 hours 52 minutes
You can also fly into Miami or Fort Lauderdale, rent a car, and drive, so you can see all the sights from the road trip information above.
Other Options To Get To Key West
Boat ride? Cruise ships? Yes, you can get to Key West both ways.
Several cruise lines do stop, and you have enough time to explore the island. It is a good option for those who want to see several Caribbean islands while on their cruise.
Celebrity is one of the best ships that stop in this port. Get cruise information here: Celebrity Cruises Key West.
Must Do Things In Key West
There are so many wonderful things to do in Key West, I have picked my top 7:
Dry Tortugas National Park. We took the ferry over to this beautiful national park and I feel it was the best way to get there.
We were able to see dolphins, sea turtles, and more and had a great time on the ferry. One of my favorite places to snorkel and is truly a unique experience. The clear water makes it easy to see quite a distance.
Sunset Cruise. If you want a beautiful view of the sunset, this is definitely the way to go.
Ernest Hemingway House, Key West Lighthouse, Southernmost Point, and all along Duval Street for sure. Mallory Square is the perfect spot to watch the sunset each evening.
Below is additional information to help you plan your Key West vacation.
The Ultimate Key West Travel guide will take you to the section of the website completely dedicated to everything Key West.
Upcoming Trip?
I like to use Booking for booking not only my hotels, but my tickets and rental cars as well. Makes life so much easier with only having to log into one location for my information.
Be sure to grab my travel tips to save you time and money. You'll also be entered into the weekly drawings.
Register here: Get 100 Travel Tips EVERY traveler should know PLUS entered into the weekly drawing.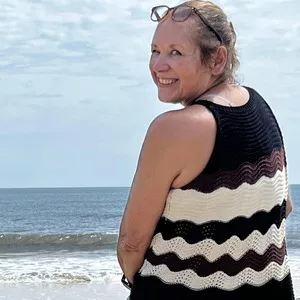 About Denise
Denise Sanger lives a life split between her love for fitness and her passion for travel particularly to the BEACH. Denise also has a love of marketing and lives in beautiful Suwannee County, Florida. You can find out more about Denise here: About Denise