Discover the Beauty of Nature on These Easy, Short North Florida Hikes
This article may contain affiliate links. Whenever you buy something through one of these links, I may earn a small commission without any cost to you. I really appreciate it as it supports this site and my family. Thank you!
You are taking a road trip south heading into Florida. Your body is cramped and feels like it has not moved in days. What do you do? Stop and take one of these short North Florida hikes.
Nature always puts things into perspective and definitely puts me in a better mood. Something as simple as taking a short hike along a river, near a spring or quick path into the forest has the power to rejuvenate your body and soul.
If you think that Florida only offers beaches and Micky Mouse, you would actually be quite surprised what you would see where I live.
Beautiful rivers, crystal clear springs, forests and state parks you can't wait to explore.
Thank you for reading this post. Don't forget to subscribe! This way you never miss an update, travel deals, discounts and more!! Subscribe to the right------>
If you are traveling into Florida via I-10 or I-75, you owe it to yourself to take a moment to stop and look around. Below are the best short hikes in the North Central Florida area.
I will also be writing a guide for Northeast Florida (Jacksonville area) as well as the Florida Panhandle. Hopefully, this will entice you to stop, take a moment to breathe and enjoy the beautiful nature Florida offers.
First, I chose these hikes because you do not need special gear except for sneakers. If you have hiking boots with you, yes wear them.
Next I do not recommend hiking any of these in flip flops. Although I've picked easy, short hikes, there may be some roots or uneven trails.
Bug spray. I use this one: Repel Yes it has DEET in it but you really need something to protect you from the ticks and mosquitos.
Finally, be sure you have water with you at all times. Florida is very humid. Also have your cell phone with you for emergencies.
Short North Florida Hikes
Below are my favorite three mile or less hikes in the North Central Florida area:
Big Shoals
Big Shoals is located on the Suwannee River and is the only Class III rapids in the Sunshine State. This hike is 1.25 miles out to the shoals along a pine needle trail.
This is a beautiful trail that follows the Suwannee River to the shoals. There are roots and uneven surfaces but it is an easy trail. Big Shoals is conveniently located off either I-10 or I-75.
Big Shoals Entrance: 18738 S.E. 94th St. White Springs FL 32096. This is one of my favorite trails.
O'Leno State Park
This trail located near the beautiful Sante Fe River has a suspension bridge over the river. Although there are over 20 miles of trails in this park, the River Trail is about 1.5 miles and the most popular.
The large wooden suspension bridge built in the 1930s by the Civilian Conservation Corps (CCC) which leads you toward the trail that follows the Sante Fe River. You can choose your distance on this trail and can easily turn around back to the parking lot.
O'Leno State Park is located at 410 S.E. O'Leno Park Road, High Springs FL 32643 which you can easily reach off 441 from I-75.
Itchetucknee Springs State Park
This stop is a bit farther from either I-10 or I-75 but so worth the trip. The trail follows the absolutely breathtaking blue and green colors of the Itchetucknee Springs and River.
Depending on the time of year you visit, you may see tubers on every color floating tube you can imagine. Often the entrance to park is backed up US 27.
The Blue Hole Trail is roughly 1/2 mile and leads you to Blue Hole Spring which is the largest in the park. The Trestle Point Trail follows the beautiful river and will take roughly 30 minutes.
If it is warm enough and you have your swimsuit and snorkel gear, jump in the springs. The temp is 72 degrees F year round.
If it is not summer when you are heading into Florida, definitely make the stop. The address for this gem is 410 S.E. O'Leno Park Road, High Springs FL 32643. You can actually combine this stop with O'Leno then have lunch in historic High Springs.
Falling Creek Falls
Take a short stop off I-10 and stop to see one of Florida's rare waterfalls. After viewing the waterfall, continue down the boardwalk.
When the boardwalk ends, you are on a path that will give you more views of the creek as it flows. This trail is not very long but there are picnic tables as well as a restroom to relax for lunch or a quick snack.
The address for Falling Creek Falls is 953 Northwest Falling Creek Road Lake City, Florida 32055 and easy to reach from I-10. This trail is less than 3/4 mile long.
Fanny Bay Trail I-10 Rest Area Lake City
Want to stretch your legs but not really venture off the freeway? I've got you covered. The Fanny Bay Trail is located right at the I-10 Rest Area in the Osceola National Forest. Westbound.
This is a beautiful interpretive nature trail roughly 1.1 miles round trip. Enjoy the beautiful wildlife and forest of the Osceola National Forest.
Rest area has pavilions with picnic tables, restrooms and vending machines. Definitely worth the stop.
That covers the top 5 short hikes in North Central Florida that will reenergize you for the rest of your trip south into the Sunshine State.
For specifics on all Florida trails and trails throughout the USA, I absolutely recommend the app All Trails. I use it constantly for hiking, biking, paddling and more.
From this point to Miami is roughly 6 hours. Take the time to stretch and decompress as traffic will increase the farther south you venture.
Upcoming Trip?
I like to use Booking for booking not only my hotels, but my tickets and rental cars as well. Makes life so much easier with only having to log into one location for my information.
Be sure to grab my travel tips to save you time and money. You'll also be entered into the weekly drawings.
Register here: Get 100 Travel Tips EVERY traveler should know PLUS entered into the weekly drawing.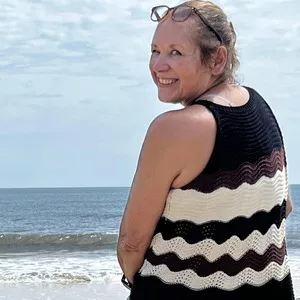 About Denise
Denise Sanger lives a life split between her love for fitness and her passion for travel particularly to the BEACH. Denise also has a love of marketing and lives in beautiful Suwannee County, Florida. You can find out more about Denise here: About Denise