Santa Rosa Island Florida Your Guide To The Best Spots
This article may contain affiliate links. Whenever you buy something through one of these links, I may earn a small commission without any cost to you. I really appreciate it as it supports this site and my family. Thank you!
Are you looking for some fun things to do on Santa Rosa Island, Florida? From outdoor activities to delicious restaurants, this guide tells you all the best spots.
On the Florida Panhandle, you will find beautiful Santa Rosa Island. This barrier island is located off the west coast of Florida near Pensacola in the Gulf of Mexico.
It is a picturesque destination full of history, spectacular views and plenty of activities to keep you entertained. I've also included links to nearby things to do and see below.
Whether you're looking for an outdoor adventure or the chance to relax on one of the beautiful beaches you will find it here. This travel guide will give you all the details for your perfect day trip to Santa Rosa Island.
Thank you for reading this post. Don't forget to subscribe! This way you never miss an update, travel deals, discounts and more!! Subscribe to the right------>
Where is Santa Rosa Island, Florida?
Santa Rosa Island is located off the west coast of Florida in the Gulf of Mexico. It covers over 25 miles and stretches from Pensacola Beach to Navarre, making it one of the longest barrier islands on the Gulf Coast.
Pensacola Beach, Navarre Beach, and Okaloosa Island are also located on the island.
The closest airport to Santa Rosa Island is Destin-Fort Walton Beach Airport. Also, nearby are Panama City Beach Airport and Pensacola Airport
You can easily get to the island by car or boat. Roughly a 55-minute drive on scenic highway 98 from Panama City Beach Airport. Fantastic destination for a weekend getaway.
Fun Things To Do On Santa Rosa Island Florida
Ready to explore? The beauty of Santa Rosa Island, is why it is one of Florida's top beach destinations.
Whether you want to take a leisurely stroll on its pristine beaches, discover its diverse wildlife preserves, or explore its historical lighthouses, you're sure to find something amazing here.
Visit the Pensacola Lighthouse and Museum.
Get a chance to explore history at the Pensacola Lighthouse and Museum is located on the island, near Pensacola.
Climb up the observation tower for beautiful views of the island, or explore exhibits and displays highlighting the area's lighthouse history.
Guided tours are also available if you want to learn more about the overall history of Santa Rosa Island.
Swim, Sunbathe and Fish at Santa Rosa Island Beach
Relax on the beautiful white sand at Santa Rosa Island Beach or spend a day under the sun with plenty of activities to do.
Go fishing in the Gulf, try your luck at snorkeling or let the kids build sandcastles and search for shells.
There is a fishing pier near Fort Pickens mentioned below as well as Pensacola Pier.
After dark, stay until night and watch stunning sunsets casts its colors over the beach.
Take in a Sunrise at Navarre Beach Pier
Start the day off right by catching a glimpse of the stunning sunrise at Navarre Beach Pier.
Watch glowing colors brighten up the dark sky, while the shimmering reflections dazzling on the Gulf of Mexico.
Enjoy a cup of coffee or tea in hand and let the peaceful morning atmosphere to set your tone for the entire day.
Take in breathtaking views from its top before heading off to your next Santa Rosa Island adventure.
Pensacola Beach
Pensacola Beach is world-renowned for its sugar-white sand and emerald-green waters. Looking to work on your tan? Pensacola Beach is the perfect place.
The beach's powdery white sand and warm Gulf waters make it a popular spot for sunbathing. Visitors can relax on the beach, read a book, or take a nap in the sun.
Love to swim? With its crystal-clear waters and gentle waves, Pensacola Beach is the perfect place to take a dip.
How about fishing? Yes, you can do that here too. Pensacola Beach is also a great place for fishing. Visitors can cast their lines from the shore or from a boat.
The waters around Pensacola Beach are home to many different kinds of fish, including red snapper, grouper, and kingfish.
Tour the Gulf Islands National Seashore
The Gulf Islands National Seashore is a true natural beauty with miles of beaches, dunes, and marshes.
Explore its stunning coastline as you take a guided tour or board a ferry for a scenic ride along the bay.
Get an up-close look at diverse wildlife and plants, find shells and beach glass, or just sit back and relax, taking in the beautiful scenery of this incredible national seashore.
History buff? You will want to stop at Fort Pickens.
Fort Pickens is located on the Gulf Islands National Seashore. It is shaped as and made of bricks and named after American Revolutionary War hero Andrew Pickens. You can tour the inside of the fort.
Snorkeling, Paddling, Swimming, Beachcombing
One of the best things about Santa Rosa Island also called Okaloosa Island by those in Okaloosa County is how clear the water is. This makes it perfect for snorkeling.
Water sports! Enjoy swimming, kayaking, stand up paddleboarding and more.
Want to stay on shore? Enjoy some of the best beachcombing in Florida.
Where to Stay
There are several hotels to choose from right on the island or in nearby Pensacola or Panama City Beach. Check your dates here: Santa Rosa Island Hotels
Prefer a vacation home? Me too. And you will find plenty of options directly on the beach. Check your dates here: Santa Rosa Island Vacation Homes
Below are other fun things to and places to go nearby Santa Rosa Island you may want to check out while you are vacationing on the island.
Upcoming Trip?
I like to use Booking for booking not only my hotels, but my tickets and rental cars as well. Makes life so much easier with only having to log into one location for my information.
Be sure to grab my travel tips to save you time and money. You'll also be entered into the weekly drawings.
Register here: Get 100 Travel Tips EVERY traveler should know PLUS entered into the weekly drawing.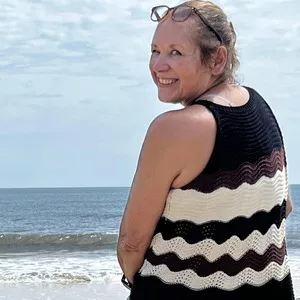 About Denise
Denise Sanger lives a life split between her love for fitness and her passion for travel particularly to the BEACH. Denise also has a love of marketing and lives in beautiful Suwannee County, Florida. You can find out more about Denise here: About Denise