Best Adult Beaches In Florida: Unwind And Relax In Paradise
This article may contain affiliate links. Whenever you buy something through one of these links, I may earn a small commission without any cost to you. I really appreciate it as it supports this site and my family. Thank you!
Florida, the Sunshine State, is renowned for some of the most beautiful beaches in the United States and the world. As we move along our journey and explore the best adult beaches in Florida, you will enjoy a curated list of fun destinations perfect for a tranquil, adult-oriented getaway.
Whether you're seeking an indulgent, couple's retreat or a lively atmosphere with friends, Florida has the ideal beach for you.
We understand that it can be quite challenging to choose the perfect adult beach destination in Florida, given its extensive coastline and numerous exciting options.
In this article, we'll discuss our favorite adult beaches and highlight their unique characteristics.
Thank you for reading this post. Don't forget to subscribe! This way you never miss an update, travel deals, discounts and more!! Subscribe to the right------>
From pristine sands to breathtaking sunsets, these Floridian gems are sure to enchant visitors with their distinct offerings.
We hope this will inspire you and guide you to your next unforgettable beach experience whether it is one of the best nude beaches that are clothing optional or a luxury resort where your every desire is catered to.
You can jump to any section by clicking the table of contents. Also at the bottom are links for helping you plan your trip. Pack your bags, grab your sunscreen and let's set out to discover the best of what Florida's adult beaches have to offer!
What Are Adult Beaches and Private Beaches?
When people hear adult only they often think beaches that allow public nudity or topless beaches. Those are generally clothing-optional beaches. I have linked to more information on these beaches below.
Adult beaches really refer to those which cater specifically to a mature crowd, often 21 years and older, and may have age restrictions in place. These beaches are perfect for individuals or couples who seek a more sophisticated and tranquil atmosphere, free from the noise and chaos that can sometimes come with family-friendly beaches.
Private beaches, on the other hand, are those owned by individuals, resorts, or hotels, and offer limited access to guests or members only. Some private beaches in Florida are open to the public for a fee.
These beaches provide an exclusive feel, with added amenities and a comfortable environment, often attracting those who desire privacy and exceptional service.
In our beautiful Sunshine State, we have a plethora of both adult and private beaches as well as a few clothing optional spots dotting our coastline, providing the perfect getaway for those in need of relaxation and a touch of luxury.
Most adult and private beaches have a few characteristics in common:
Tranquility: With age restrictions and limited access, these beaches provide a serene environment, perfect for unwinding and enjoying the sun, sand, and surf.
Amenities: Adult and private beaches usually offer premium amenities, such as lounge chairs, umbrellas, beachside service, and upscale dining options.
Activities: These beaches often cater to adventurous or active vacationers, hosting water sports and other outdoor activities catering to an adult experience.
To find the best adult and private beaches in Florida, consider the location, amenities such as showers, restrooms, parking lot access, fees, and any age or membership restrictions. With so many fantastic options to choose from, you're sure to find the perfect beach for you.
Number One Adult Beach in Florida
My pick for the perfect adult beach in Florida for those seeking a more sophisticated and tranquil experience is Delray Beach located in Palm Beach County.
It is our top choice for those looking to unwind and enjoy the quintessential Florida sun and sand without any distractions. Delray Beach is a charming and upscale town with year-round sunshine and some of the best beaches in South Florida that attracts couples, friends, and solo travelers alike.
The beach itself is pristine, with powdery white sand and crystal-clear waters. We love that its relaxed atmosphere allows us to truly soak in the beauty of the ocean without the noise of a typical tourist beach.
When visiting Delray Beach, we recommend taking advantage of the amazing amenities and fun things to do that the town has to offer. Enjoy top-notch restaurants, boutique shops, and art galleries just a short walk from the beach.
You will also appreciate that the beach has a designated adult-only section, dubbed "The Grown Zone," where you can bask in the sun without hearing the screams of excited children.
Some key points that make Delray Beach our number one adult beach in Florida are:
Tranquil atmosphere
Pristine beach conditions
Designated adult-only section
Proximity to fantastic amenities
For those who prefer to catch some rays while sipping on a refreshing cocktail, Delray Beach also offers beachside bars and hotels with poolside lounges.
These establishments cater to an adult clientele, ensuring that you maintain that peaceful ambiance even when stepping away from the sand.
What Best Way to Pick an Adult Beach for Your Vacation
When it comes to picking the perfect adult beach for your vacation, consider these few key factors to ensure you have the ideal Florida getaway.
Location: Research different coastal towns and cities in Florida to find out which ones cater best to adults. Some areas may have more nightlife like Miami Beach, dining, and entertainment options targeted at an adult crowd. Don't forget to factor in accessibility – do you prefer a beach that's easy to reach or something more secluded?
Facilities: Keep an eye out for beaches that offer amenities like beach bars, watersports rentals, and beach chair services. These conveniences can help make your day at the beach more comfortable and enjoyable. It's also a good idea to check if a specific beach has public restrooms and shower facilities nearby.
Crowd: Consider the type of beach atmosphere you're looking for – some adults may prefer a lively beach scene with an energetic crowd, while others might seek a quieter, more relaxed setting to unwind. Keep an eye on the peak seasons for your chosen destination and try to plan your trip accordingly to avoid overcrowded beaches.
Activities: Prepare a list of your preferred beach activities, such as swimming, surfing, sunbathing, or beachcombing. Then, look for a beach that best caters to your interests. For example, some beaches may have calmer waters perfect for swimming, while others might boast bigger waves suitable for surfing. Additionally, some adult beaches may host events like beach volleyball tournaments or outdoor yoga classes.
Best Adult Beaches in Florida
Florida is known for its beautiful beaches, and there are plenty of adult-oriented spots to choose from. In this article, we'll discuss the top adult beaches in various regions of Florida, including the Florida Keys, Southeast Florida, Atlantic Ocean Coastline, Southwest Florida, and Gulf Coast Adult Beaches.
Florida Keys
The Florida Keys are a popular destination for adult beach lovers. We recommend Smathers Beach in Key West as a great spot for sunbathing and relaxation. Additionally, Higgs Beach offers a more secluded experience for adults seeking a quieter atmosphere.
A few miles north of Key West is Boca Chica Beach near MM 12.5. No amenities. You need to bring everything with you and carry it out as well. But this is truly one of the most beautiful, private Florida beaches you will ever lay eyes on.
Southeast Florida
Southeast Florida is home to some stunning adult-friendly beaches. In Miami, we suggest Haulover Beach due to its clothing-optional section and vibrant atmosphere. For those seeking a more upscale experience, Palm Beach is a must-visit destination.
Atlantic Ocean Coastline
The Atlantic Ocean coastline has many beautiful beaches perfect for adults. Be sure to check out Playalinda Beach in the Canaveral National Seashore, which is known for its pristine sands and clothing-optional section. Another great option is Delray Beach, mentioned above, where you can enjoy sunbathing, swimming, and beachside dining.
Biscayne Bay and Biscayne National Park are both off the beaten path. Beautiful lands and water to explore. Snorkel the bay watching for sea turtles, dolphins, rays and more.
St. Augustine is also a nice adult destination BUT it can be extremely crowded. If crowds don't bother you, enjoy exploring the history of the Fort as well as the miles of coastline from St. Augustine up through Jacksonville.
Southwest Florida
Southwest Florida is another fantastic region for adult beach lovers. We recommend Boca Grande on Gasparilla Island as a peaceful getaway for swimming and sunbathing.
Also, consider visiting Naples and Fort Myers both known for stunning white-sand beaches and variety of beachfront dining options.
Gulf Of Mexico Coast Adult Beaches
Finally, don't forget to explore the Gulf Coast's adult beaches. We adore Pass-a-Grille Beach which is located on a barrier island near St. Pete Beach It is known for its laid-back atmosphere and beautiful sunsets.
Additionally, Clearwater Beach offers a lively atmosphere and plenty of amenities for adults to enjoy, such as waterfront dining and beach bars.
Santa Rosa Beach, located on Florida's Panhandle, is the perfect place for those that love white sandy beaches and crystal clear water.
Adult Only Resorts and All Inclusive Packages
Spa Treatments
At adult-only resorts in Florida, we take relaxation seriously. Indulge in luxurious spa treatments designed to soothe and rejuvenate both the body and mind. Many all-inclusive packages include a choice of massages, facials, and body wraps, so you can unwind after a day of fun in the sun.
Hot Tub, Outdoor Pool and Private Pools
There's nothing like soaking in a hot tub or dipping into a private pool to make your vacation feel truly special. Accommodations that feature private pools and hot tubs, provide the perfect setting to relax and reconnect with your partner.
Additionally, many adult-only resorts have communal hot tubs and adult-only pool areas for you to enjoy.
Tennis Courts and Golf Courses
For those who enjoy staying active while on vacation, our adult-only resorts in Florida offer a range of sports facilities such as tennis courts and golf courses.
Sharpen your skills or take up a new hobby with the help of our professional instructors and staff. And when you're finished playing, relax at our clubhouses and enjoy a well-deserved meal or drink.
West Palm Beach
West Palm Beach is a popular destination for adult-only vacations in Florida. With its pristine beaches, vibrant nightlife, and luxurious resorts, it is the ideal location to unwind and have fun. We offer a variety of all-inclusive packages that cater to every taste, ensuring you have a memorable stay in this beautiful coastal city.
Orlando
Personally I do bot consider Disney World an adult destination, but I do know many would disagree with me. If this is you, there are a few adult resorts in the area. Disney's Contemporary Resort, located on the Disney compound is the closest to Magic Kingdom and adult only.
Frequently Asked Questions
What are the top clothing-optional beaches?
Haulover Beach Park is considered the top clothing-optional beach in Florida. Known for its pristine white sand and clear waters, this beach attracts both locals and tourists.
While the clothing-optional area is a designated part of the beach, it's well-maintained and welcoming for all visitors. Others are Apollo Beach near Canaveral National Seashore, Blind Creek Beach located near Fort Pierce,
Any adults-only resorts near the beach?
Florida has a variety of adults-only resorts near its beaches. Some notable ones include Bungalows Key Largo, The Standard Miami, and Desire Riviera Maya Pearl Resort. These resorts cater to couples and singles looking for an exclusive, serene experience without any distractions.​
Many all-inclusive resorts such as a luxury resort not only have amazing food, drinks and fun, they offer a fitness center, full-service spa, golf course, tennis courts and other daily activities to choose from. These are definitely a great place for those seeking a relaxing getaway with a little pampering.
Which beach has the best nightlife?
South Beach in Miami is known for its vibrant nightlife scene. With numerous bars, clubs, and restaurants open late into the night, this beach is a hub for entertainment and socializing.
Starting with happy hour, visitors can expect lively crowds, great music, live entertainment and a memorable night out.
Are there secluded beaches for couples?
Several secluded beaches in Florida offer the perfect ambiance for couples. Lovers Key State Park, Caladesi Island State Park, and Blowing Rocks Preserve are just a few examples of quiet and romantic beach escapes where couples can enjoy each other's company.
Which beach offers great outdoor activities?
Siesta Key boasts a wide variety of outdoor activities for visitors to enjoy. From paddleboarding and kayaking to bicycling and beach volleyball, there's something for everyone. As one of the top-rated beaches in Florida, it is also one of the most crowded. Siesta Key is perfect for those looking to stay active during their beach experience.
Also take a look at the State Parks and National Parks in Florida. These popular destinations are often overlooked and less crowded than the more popular beach towns like Ft Lauderdale or Panama City Beach.
Below is additional information to help you plan your trip:
Upcoming Trip?
I like to use Booking for booking not only my hotels, but my tickets and rental cars as well. Makes life so much easier with only having to log into one location for my information.
Be sure to grab my travel tips to save you time and money. You'll also be entered into the weekly drawings.
Register here: Get 100 Travel Tips EVERY traveler should know PLUS entered into the weekly drawing.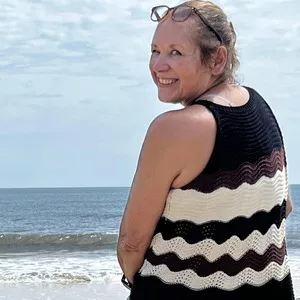 About Denise
Denise Sanger lives a life split between her love for fitness and her passion for travel particularly to the BEACH. Denise also has a love of marketing and lives in beautiful Suwannee County, Florida. You can find out more about Denise here: About Denise