Cranberry Orange Whiskey Sour Cocktail For Home Or The Beach
This article may contain affiliate links. Whenever you buy something through one of these links, I may earn a small commission without any cost to you. I really appreciate it as it supports this site and my family. Thank you!
Pumpkin spice? Bah! Don't get me wrong, I do like pumpkin desserts but when it comes to cocktails I want to enjoy, pumpkin is not on the list. Know what is? This Cranberry Orange Whiskey Sour Cocktail.
Whiskey Sours have been around a long time, but this is a new variation I recently discovered. And loved it!
Easy to make. The cranberry make it feel like a fall cocktail while the orange juice still says summer.
The version I enjoyed did not use egg white, although many versions do say to use it. It creates a foam on the top of the cocktail.
Thank you for reading this post. Don't forget to subscribe! This way you never miss an update, travel deals, discounts and more!! Subscribe to the right------>
My cocktail was fantastic without the added work of foaming an egg white. But if you want to really up the presentation for a special event, I say go for it.
Cranberry Orange Whiskey Sour Cocktail Ingredients
For me, simple is always best but when it comes to this cocktail, it is worth making it from scratch versus using a premade sour mix. In a pinch, if you're short on time, use the premade mix.
2 ounces Whiskey. I used Crown Royale, but you can use any type you prefer or even bourbon if that is what you drink.
1 ounce orange juice. Fresh squeezed is best.
3/4 ounce unsweetened cranberry juice.
3/4 ounce maple syrup or simple syrup. I really loved the taste with the maple syrup.
1/2 ounce lemon juice. Again fresh squeezed is best.
Cranberry Orange Whiskey Sour Cocktail Directions
Add all ingredients above into a shaker cup with ice. Shake. Shake. Shake!
Pour into a glass and garnish with an orange slice. Add a few cranberries to the glass for a pop of fun color.
That's it! Easy right?
To me, it does not make sense to overcomplicate things. Easier, the better.
If you want to add the egg white foam, you literally do everything the same EXCEPT no ice in the shaker cup. You first shake all ingredients together without ice, then add ice afterward.
What this does is allow the foam to rise to the top of the cocktail. And there you have it. A fall/summer twist for a favorite cocktail. Salute!
You may also enjoy the following Fall beach cocktails
Upcoming Trip?
I like to use Booking for booking not only my hotels, but my tickets and rental cars as well. Makes life so much easier with only having to log into one location for my information.
Be sure to grab my travel tips to save you time and money. You'll also be entered into the weekly drawings.
Register here: Get 100 Travel Tips EVERY traveler should know PLUS entered into the weekly drawing.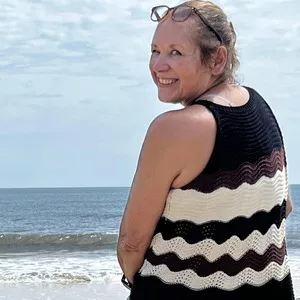 About Denise
Denise Sanger lives a life split between her love for fitness and her passion for travel particularly to the BEACH. Denise also has a love of marketing and lives in beautiful Suwannee County, Florida. You can find out more about Denise here: About Denise