This article may contain affiliate links. Whenever you buy something through one of these links, I may earn a small commission without any cost to you. I really appreciate it as it supports this site and my family. Thank you!
Sipping coffee as I meander down the beach watching the sunrise on the horizon. Lazy days spent lying on the soft white sand watching the waves as they gently hit the shore. Enjoying a Sea Breeze cocktail from the balcony of my hotel room watching the sunset. Ah the good old days.
By this time of year, I would already have my beach trips scheduled and booked. It's May and I haven't scheduled one trip. With the outbreak of Covid-19, I'm uncertain when or where I should book my trips. So I haven't booked anything.
Sure the news is showing folks packed on the beach. The result? Several beaches forced to close as folks won't adhere to social distancing requirements. A few members of my family including my husband have underlying issues which makes staying away from crowds a priority. So what do those of us that love to travel do? (I've gotten some really great last minute deals through Expedia)
For this Beach Loving gal, Memorial Day will be a Beach Staycation this year. I live near several natural springs not found anywhere else in the USA that I'll eventually be able to visit. Not exactly the beach but water calms my soul. I think I'm a Mermaid in a human's body.
Thank you for reading this post. Don't forget to subscribe! This way you never miss an update, travel deals, discounts and more!! Subscribe to the right------>
How do you plan a beach staycation? It may be easier than you think. It begins with setting the scene for your much needed Staycation. Think about your favorite beach trip or vacation. What's the first thing that pops into your mind? For me, it's relaxation and watching the waves as they hit the shore one after another. It's calming to me.
Let's recreate the scene shall we by our five senses – sight, smell, touch, sound and taste:
Sight. The best view as far as I'm concerned is that of the waves hitting the soft, white sand shores of the beach. To recreate this, I've been redoing my back porch that overlooks the pool. Everything is concrete around the pool so sand is out but I can arrange the lounge chairs around the pool for a "water" view. Slip on your sunglasses and relax.
Smell. Sunblock lotion really goes a long way for transporting you instantly to the beach with the underlying coconut and sandalwood scents. Divine.
Touch. The first thing I do before heading to the beach is to put on my cover-up, grab my beach tote and as soon as I get to the beach I put my soft, comfy beach towel over my beach chair. Keeps me from sticking to the cushion. It's habit for me. Doing the same thing at my house around my pool recreates that feeling.
Sound. I may not be able to hear the waves, but I can use my imagination and play some music on my phone connected to my bluetooth speaker.
Taste. For me there are foods and definitely drinks that transport me instantly to the beach. My favorite? Sex on the beach. You can grab the recipe here: Sex On The Beach Cocktail and enjoy sipping your cocktail in your lounge chair smelling like the beach with your sunblock and listening to Jimmy Buffet playing on your phone.
Is it the same as a beach vacation? Of course not. But in these crazy times we're living in, we need to make lemonade out of lemons and enjoy every moment God gives us.
Upcoming Trip?
I like to use Booking for booking not only my hotels, but my tickets and rental cars as well. Makes life so much easier with only having to log into one location for my information.
Be sure to grab my travel tips to save you time and money. You'll also be entered into the weekly drawings.
Register here: Get 100 Travel Tips EVERY traveler should know PLUS entered into the weekly drawing.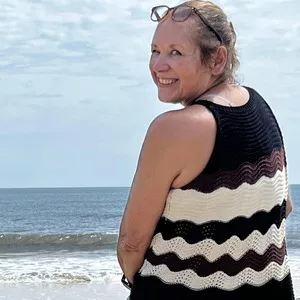 About Denise
Denise Sanger lives a life split between her love for fitness and her passion for travel particularly to the BEACH. Denise also has a love of marketing and lives in beautiful Suwannee County, Florida. You can find out more about Denise here: About Denise