Lower your blood pressure naturally.
This article may contain affiliate links. Whenever you buy something through one of these links, I may earn a small commission without any cost to you. I really appreciate it as it supports this site and my family. Thank you!
There are many things that we experience as kids that shape us as we take our journey through life. One of the most, if not the important thing that has changed the way I view many things including health and fitness is the death of my dad.
At 17, I had literally just walked in the house after school when my uncle was at the side door. I was a senior in high school set to graduate that June when my uncle delivered words I never thought I'd hear – your dad died today.
High blood pressure. The first time I heard that, my heart sunk.
What? How does that happen to a man that's only 44 years old? Are you sure it's him? Where's my mom? Only a few of the questions that went through mind in those moments of disbelief. Mom came home a few minutes later with my aunt. I knew from looking at her face, that what my uncle told me moments before was true.
Something I found out later was that my dad had been experiencing pain in his arm and chest while at work for the City of Cleveland. Instead of going to the hospital, he thought if he went home and rested he would feel better. He was literally 5 minutes from the house when he passed away from a major heart attack.
Thank you for reading this post. Don't forget to subscribe! This way you never miss an update, travel deals, discounts and more!! Subscribe to the right------>
That moment in time has affected my view of many things. I was nervous heading into my 40's because in the back of my mind, my dad didn't make it to 50. Would I? This moment also contributed to the things I do right up to where I am today at 57, almost 58.
First things first. If you do not feel well or are experiencing pain in your chest, arms or other parts of your body that you've not experienced before – go to the hospital. I believe if my dad had gone to the hospital instead of trying to get home, he may be alive today. After all, mom is rocking it out at 80.
First things, first if you are experiencing chest pain, GO TO THE HOSPITAL.
By far, the most important thing I have done to keep my blood pressure in check is exercise. Many of you know I am not a fan of prescription medication so when my blood pressure, which is is checked roughly every 4 months, was ticking up about a year ago. I thought to myself, self get it together.
I immediately changed my exercise (sorry morning classes) to include more HIIT. HIIT is high intensity interval training. My morning classes include a combination of cardio and strength. Less than 3 months later, my blood pressure was back down where it's been for most of my life 115/70-72. No medication needed. (Nervous? Read Change Isn't A Bad Thing Here.)
If you are struggling with high blood pressure as I was, know that you need to first listen to the guidance of your doctor before making changes. If you are on medication, do not stop taking it without discussing it with your health care provider.
That said, increasing your exercise and practicing meditation/prayer as I do every day can help you lower your blood pressure. Start slowly by taking a walk. Even walking around your home or yard is a great place to begin. Once you have adjusted to exercise, start adding in intervals. For example, walk at a regular pace for 2 minutes then increase your pace for 30 seconds and build from there.
One of the best things you can do to feel better physically AND mentally is to get up and get moving. You CAN do it. Have an amazing week.
To your health,
Denise
Upcoming Trip?
I like to use Booking for booking not only my hotels, but my tickets and rental cars as well. Makes life so much easier with only having to log into one location for my information.
Be sure to grab my travel tips to save you time and money. You'll also be entered into the weekly drawings.
Register here: Get 100 Travel Tips EVERY traveler should know PLUS entered into the weekly drawing.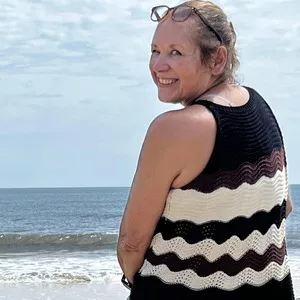 About Denise
Denise Sanger lives a life split between her love for fitness and her passion for travel particularly to the BEACH. Denise also has a love of marketing and lives in beautiful Suwannee County, Florida. You can find out more about Denise here: About Denise