Sanford Florida Beaches: What are the best ones?
This article may contain affiliate links. Whenever you buy something through one of these links, I may earn a small commission without any cost to you. I really appreciate it as it supports this site and my family. Thank you!
Sanford Florida? Isn't that an airport in Orlando? Are there really Sanford Florida beaches? Just a few of the questions I am often asked.
Yes there is an airport near Orlando called Sanford. But the town of Sanford is so much more than the name of an airport.
Nestled in central Florida, Sanford with its small town vibe is one of the oldest cities in this area. When you visit, a few things you will quickly notice are brick lined streets, towering beautiful live oak trees, tasteful storefronts, large, nineteenth-century Victorian homes and some of the best restaurants in the area.
But Sanford is so much more and has a story that needs to be told. Picturesque First Street is located in the center of downtown Sanford and this is one stop to put on your visit list when you are in the area.
Thank you for reading this post. Don't forget to subscribe! This way you never miss an update, travel deals, discounts and more!! Subscribe to the right------>
The downtown area has everything you could want. It includes historic landmarks like the Wayne Densch Performing Arts Center and many unique shops that will have you want to visit again and again.
Where is Sanford, Florida?
Sanford as mentioned above is located in central Florida. Close to Interstate 4 and State Road 417. It is conveniently halfway between the attractions and theme parks of Orlando and east coast Atlantic beaches such as New Smyrna Beach, Vero Beach and Kennedy Space Center.
This city of Sanford is located on the south shore of Lake Monroe at the head of the St. John River. It is a popular destination for those that enjoy water sports, fishing but also a Saturday morning farmer's market and cute shops and restaurants.
How To Get To Sanford, Florida?
After you have spent your time at Orlando's theme parks, you will be ready to hit an area less crowded. Trust me on this.
It is actually quite easy to get to Sanford depending on road conditions and construction. Orlando International Airport and Orlando Sanford-International Airport are quite close.
Orlando International (MCO) to Sanford is roughly a 35-minute drive. Distance to Sanford from Orlando Sanford International airport is the closer airport and a short drive to Sanford.
Prefer to drive? This is a road trip you are sure to enjoy! From either north or south, generally the quickest route is the turnpike or off I-75 you are in the center of the state.
If you are on the East Coast it would be 95 to I-4 and also I-4 into Orlando from the Tampa/St. Pete areas if you are on the Gulf Coast of Florida.
Sanford Florida Beaches
Let's talk about a few of the best beaches nearby! Sanford is not on either the Gulf or Atlantic Coasts, but actually a very short drive and day trip will get your tootsies in the sand.
We will start with the beaches on the Atlantic Coast of Florida in the United States first with Daytona Beach.
Daytona Beach
By distance, the closest Sanford Florida beaches first is Daytona Beach but beautiful New Smyrna Beach and the Canaveral National Seashore are also fairly close. Both are roughly 45 minutes drive from Sanford.
This Florida destination is what the beach movies are made about. There is no better way to spend your time in Florida than by exploring the many attractions that are available.
From beautiful beaches and an exciting international speedway, there really isn't anything you will not find in this beach town.
The best part about visiting Daytona Beach? You'll get all of these things mentioned above plus delicious food or art galleries too.
New Smyrna Beach
Honestly? I can never get enough of New Smyrna Beach. It is definitely one of my favorites on the Florida Atlantic Coast and New Smyrna is the next nearest beach for you to visit.
New Smyrna, Flagler and a few other beaches did take a hit from Hurricane Ian but are bouncing back quickly. This portion of Florida on the Atlantic Ocean is absolutely gorgeous. The natural beauty of this area is what has folks returning on vacation year after year.
Want to create family memories? This beach is where to do just that. After spending time at the amusement parks in the Orlando area, New Smyrna Beach is a short drive over to the coast and a wonderful place to unwind.
Even better? This is a beach that you can park your car right on the sand. But be sure you have AWD or 4WD as I have witnessed cars not being able to get through the sand.
Canaveral National Seashore
This barrier island is a one you definitely need to visit. Roughly 24 miles long, this is the largest island on the east coast of Florida that is undeveloped.
This island is also a sanctuary for not only for us beach goers but wildlife as well including many endangered animals and sea turtles. Southern Bald Eagles, manatees, falcons and scrub jays call this great spot home. Perfect for the entire family.
Cape Canaveral is part of the magnificent Space Coast. This charming beach town is home to Port Canaveral. My mother and I had a great time when we visited. My only regret? Needed more time to see it all.
Daytona Beach
Next on the list? The Daytona Beach area. Any water sport you can imagine doing, you can do it here. Jet skiing, surfing, swimming or simply walking on the soft sand will keep you moving.
Don't forget to stop at the world renowned Daytona International Speedway. The first time I laid eyes on this track, it blew me away. I had no idea how big it was!
Cocoa Beach
The surfing capital of the world! Well at least I like to think in Florida.
Head over to the world-famous Cocoa Beach Pier which is 800 feet long and enjoy great fishing and surfing. Afterwards take advantage of the many restaurants, surf shops, and bars.
Ormond Beach
Moving in the southeast direction will bring you to Ormond Beach. One of the most popular beaches on Florida's Atlantic coast. We actually
visited Ormond Beach, Daytona Beach as well as Flagler Beach on the same day.
This beach is a great alternative if you find Cocoa Beach or Daytona Beach crowded. Depending on what time of year you visit, expect nice warm water in the summer months. Not quite so warm in the winter.
St. Augustine Beach
Reverse directions and head a bit farther north, and you will find yourself at St. Augustine Beach and the historic St. Augustine area. Definitely one of my favorite cities of all in Florida. Also, the oldest.
S
St. Augustine is an excellent place to get away as there are so many fun things to do. Be sure to allow time to visit the Fort as well as the friendly beaches in the area.
Gulf Coast Beaches
This girl loves the Gulf Coast but for ease to get to the beach with the least amount of total travel time, look at Clearwater Beach, Treasure Island, Indian Rocks Beach or Indian River Lagoon This area is also a great place for water activities, fishing, and more.
Honestly? If you are in the middle of Florida and are looking for the best Sanford Florida Beaches choose the Atlantic side.
Let me know which one is your favorite!
Upcoming Trip?
I like to use Booking for booking not only my hotels, but my tickets and rental cars as well. Makes life so much easier with only having to log into one location for my information.
Be sure to grab my travel tips to save you time and money. You'll also be entered into the weekly drawings.
Register here: Get 100 Travel Tips EVERY traveler should know PLUS entered into the weekly drawing.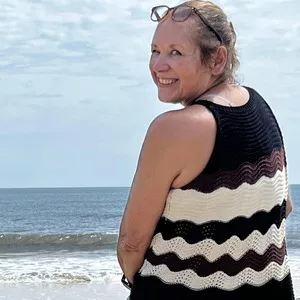 About Denise
Denise Sanger lives a life split between her love for fitness and her passion for travel particularly to the BEACH. Denise also has a love of marketing and lives in beautiful Suwannee County, Florida. You can find out more about Denise here: About Denise