Holiday Isle Beach, Florida: Beauty You Must Make The Time To Visit
This article may contain affiliate links. Whenever you buy something through one of these links, I may earn a small commission without any cost to you. I really appreciate it as it supports this site and my family. Thank you!
Holiday Isle Beach in Florida is not only beautiful, it is a popular vacation destination known for its stunning white sand beaches and crystal clear waters.
It may also be referred to as Holiday Island or Noriega Point. It is definitely one of the most beautiful places you will ever put your toes in the sand.
Located in the heart of the Emerald Coast near Destin, this small barrier island is paradise. The warm, subtropical climate greets you as you step onto the beach.
Enjoy fishing, boating, and other water sports, or simply relax on the beach and soak up the sun. The island is home to several marinas, where visitors can rent boats and other watercraft.
Thank you for reading this post. Don't forget to subscribe! This way you never miss an update, travel deals, discounts and more!! Subscribe to the right------>
Perfect for a romantic getaway, girl's trip or family trip, Holiday Isle Beach is a wonderful beach destination. I have put links of other beaches and activities in the area below.
Where is Holiday Isle Beach Florida?
Holiday Isle Beach Florida is a small, picturesque community located on a barrier island in the Gulf of Mexico. It is also referred to as Noriega Point or Holiday Island and sits between the Gulf of Mexico and the Destin Harbor.
The island is situated between the Destin Harbor and the Gulf of Mexico, offering visitors stunning views of the emerald green waters and sugar-white sand beaches.
Holiday Isle Beach Florida is a 2-mile-long peninsula that is separated from the mainland by Destin Harbor. It is part of Okaloosa County and is located in the northwestern part of Florida. Nearby is Crab Island which is only accessible by boat.
The Destin-Fort Walton Beach Airport (VPS) is the closest airport to Destin and Holiday Island Beach. The airport is roughly 18 miles from the island.
Driving to Holiday Isle Beach is easy and convenient. The beach is located off of Highway 98, which runs along the Gulf Coast.
Visitors coming from the east can take Interstate 10 to Highway 331 South to Highway 98 West. Visitors coming from the west can take Highway 98 East.
History of Holiday Isle Beach
Holiday Isle Beach Florida was originally developed in the 1960s as a resort community. The island was created by dredging the harbor and using the sand to build up the land.
Today, it is a popular vacation destination for families and couples, offering a wide range of activities, including boating, fishing, swimming, and sunbathing.
Over the years, Holiday Isle Beach Florida has become known for its laid-back atmosphere, friendly locals, and stunning natural beauty.
It has also become increasingly crowded. If you prefer a quieter get away, plan to visit during off-season.
Visitors can enjoy a variety of restaurants, shops, and attractions nearby in Destin, including the Destin Harbor Boardwalk, which features live music, street performers, and a variety of restaurants and shops.
Attractions and Activities
Holiday Isle Beach as well as Destin both offer beautiful beaches and something for everyone to enjoy. Check out these top attractions and activities:
Beaches and Water Sports
One of the main attractions of Holiday Isle Beach is of course, the beach. Enjoy swimming, sunbathing, and building sandcastles on the soft, white sand.
For those who are looking for more adventure, there are also plenty of water sports available, such as jet skiing, parasailing, and paddleboarding.
There are several places to rent jet skis, boats, and more as well as options for kayaking and paddleboarding on the island.
Holiday Isle is also home to some of the best fishing in the area, so visitors can try their hand at catching some of the local fish.
Nearby White Sand Beaches To Visit
If I get started, this list will become quite long. There are so many beautiful white sand beaches you will want to explore on this part of the Florida Panhandle. My favorites are:
Fort Walton Beach, Miramar Beach; James Lee Beach; Crab Island; Topsail Hill Preserve State Park and about an hour away is Panama City Beach.
Parks and Nature
For those who love the great outdoors, there are several parks and nature areas to explore.
The Indian Mound Park and Museum is nearby in Fort Walton Beach. It is a great place to learn about the area's Native American history.
Henderson Beach State Park is a popular destination, with its beautiful white sand beaches and hiking trails. It is also absolutely gorgeous with 30-foot, snow-white sand dunes along the shoreline.
I am not sure why some sites say you can climb on the dunes. In general, dunes are protected and should not be climbed on.
Dunes provided protection from rising water as well as being a habitat for many animals and plants. Use the dune walkovers.
Dolphins are a frequent site in the Emerald Waters. Bring a blanket and watch the sunset from shore and keep our eyes scanning the fins of dolphins as they surface.
Shopping and Dining
When it comes to shopping and dining, Holiday Isle Beach has plenty of options. The Harbor Walk Village nearby in Destin, is a popular spot that offers many shops, restaurants, bars and more.
Also be sure to check out the Destin Commons, a large shopping center with a variety of stores and restaurants. For those who love seafood, there are many restaurants in the area that serve fresh, locally caught fish.
Accommodations
Holiday Isle Beach, Florida offers a variety of accommodation options for visitors, ranging from luxurious resorts to cozy vacation rentals.
Whether you're looking for a romantic getaway or a family vacation, there's something for everyone in this beautiful beach destination.
Hotels and Resorts
Holiday Isle Beach has a few options to choose from if you want to stay on the island. Last time I was there, I stayed in Destin.
It was much easier for me to drive over for a day during the week to enjoy lying on the beach. The island can get crowded making it hard to get around and find parking spots especially on the weekend.
Vacation Rentals
If you're looking for a more private and affordable option, there are vacation rentals available, including condos, apartments, and beach houses. I have put a link below to help you check options.
Upcoming Trip?
I like to use Booking for booking not only my hotels, but my tickets and rental cars as well. Makes life so much easier with only having to log into one location for my information.
Be sure to grab my travel tips to save you time and money. You'll also be entered into the weekly drawings.
Register here: Get 100 Travel Tips EVERY traveler should know PLUS entered into the weekly drawing.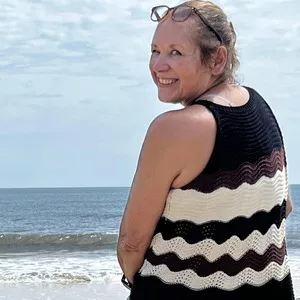 About Denise
Denise Sanger lives a life split between her love for fitness and her passion for travel particularly to the BEACH. Denise also has a love of marketing and lives in beautiful Suwannee County, Florida. You can find out more about Denise here: About Denise