Kayaking Cedar Key Florida
This article may contain affiliate links. Whenever you buy something through one of these links, I may earn a small commission without any cost to you. I really appreciate it as it supports this site and my family. Thank you!
Cedar Key.  There is something about this town than instantly transports you back in time.  Recently, a few friends and I headed over to spend a day kayaking Cedar Key, Florida including the outlying Atsena Otie Key.  By far, this kayak trip ranks in my top five.  I absolutely had a blast!
Kayaks are launched off the beach. Not the boat ramp.  We were able to park very close to the beach which made it easy to carry our kayaks over. 
To be honest? The ocean looked like angry chocolate milk and I had more than a few moments hesitation.  I got into my kayak and whoosh!  Waves came crashing over putting water inside my kayak.  Nervous? Yes a bit but once I paddled a few feet away from the shore, the crashing turned into rocking. Took a few minutes but my nerves slowly settled down. 
I'm a swimmer. A strong swimmer. But watching the choppy water and looking out to the island we were set to kayak to, had me slipping my life vest on. After all. Better safe than sorry right?
Thank you for reading this post. Don't forget to subscribe! This way you never miss an update, travel deals, discounts and more!! Subscribe to the right------>
My friend Toni, which is the most experienced of the three of us that went, pulled up the rear so she could keep an eye on us.  Usually she gets into a paddle groove and she's gone.  But this time I was the leader.  As I kept my eyes on the beautiful white sugar sand of the island, I hunkered down and paddled.  It wasn't that bad! Even with the choppiness of the water, it took us roughly 30-40 minutes to paddle over.
Atsena Otie Key
And we landed on the beach of Atsena Otie Key. This island is absolutely gorgeous. As I looked back at Cedar Key, I began to wonder why I hadn't visited this island before. A beautiful mix of sea grass and white sugar sand littered with seashells is a beach lovers paradise.
We took a few moments to simply absorb the beauty of the island from the beach. Walked into the warm, clear waters and simply breathed the scent of the island. I could feel everything in my body simply relax.
Hiking Atsena Otie Key
Quite a lot of history has been written on this little key island off Cedar Key. Per Wikipedia, In 1843 Augustus Steele claimed Depot Key under the Armed Occupation Act of 1842. He renamed the island Atsena Otie Key and built summer cottages for wealthy Florida and Georgia planters. It's known as the original Cedar Key.
More than 200 people lived on this tiny island in the 1860's. A pencil mill was among the businesses located here. Unfortunately a tidal wave washed everything off the island in 1896 and settlers rebuilt on Cedar key.
We started our hike by walking toward the dock and the Atsena Otie Key National Wildlife Refuge sign. The trail meanders in toward the center of the island. After walking the boardwalk that is over a swampy area, we came to two signs. One points back toward the beach and the other toward the cemetery. The cemetery was our destination.
As we headed toward the cemetery, we passed an old cistern used to collect rain water along with a windmill that had seen better days. Blades were on the ground but the windmill still stood strong against the sky.
Cemetery at Atsena Key
We followed the meandering, pine needle path and turned a corner and there it was. The Cemetery at Atsena Key. The tombstones standing strong against everything that Mother Nature can throw at it.
Walking among the tombstones, it becomes quickly clear that many lived only about 30 years. Infant mortality was also very high as we looked at grave after grave of babies.
From the cemetery, you are able to view a lagoon. Watching fish jumping as we listened to the songs of the many birds that call this little island home.
Walking back toward the beach, we explored a few paths off the main trail. Quickly we found ourselves back on the beach. I estimate our total hike to be about 1.5 miles and it's a fantastic hike for a beginner.
Kayaking back to Cedar Key Florida
Looking toward the city for our return trip kayaking to Cedar Key, the waters are much calmer than when we launched. As I'm sitting in the ocean waiting for my friends, I am thrilled to see dolphins playing in the surf. The dolphins put on a show as they leap out of the water. I had hoped my GoPro would pick up their antics but so far I haven't found a shot. Some of of the best shots I've gotten from my GoPro. I simply attach it to the front of my kayak and off I go!
An easy kayak back to the beach and we were ready to eat! We were on the island on a Thursday, and unfortunately many of the restaurants were closed. We found Steamers and enjoyed a delicious lunch looking out at the water.
I absolutely recommend including a stop at Cedar Key anytime you head down the west coast of Florida. Be sure you make time for 8 Things To Do In Cedar Key while you're visiting this beautiful little island.
Location
Cedar Key is located in Levy County, Florida. Approximately 50 miles southwest of Gainesville, 3 hours north of Tampa, and 3 hours west of Jacksonville; from US 19 turn west on SR 24 at Otter Creek.
Upcoming Trip?
I like to use Booking for booking not only my hotels, but my tickets and rental cars as well. Makes life so much easier with only having to log into one location for my information.
Be sure to grab my travel tips to save you time and money. You'll also be entered into the weekly drawings.
Register here: Get 100 Travel Tips EVERY traveler should know PLUS entered into the weekly drawing.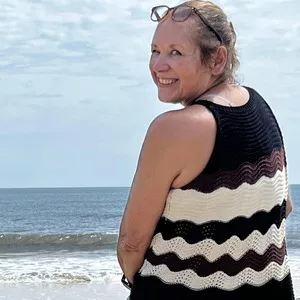 About Denise
Denise Sanger lives a life split between her love for fitness and her passion for travel particularly to the BEACH. Denise also has a love of marketing and lives in beautiful Suwannee County, Florida. You can find out more about Denise here: About Denise