Best kept secrets in Florida to visit.
This article may contain affiliate links. Whenever you buy something through one of these links, I may earn a small commission without any cost to you. I really appreciate it as it supports this site and my family. Thank you!
What's your first thought when you think of Florida? Beaches? Mickey Mouse? Boating? Well you'd be right but there is so much more. Covid did me a favor in that it had me exploring many different parts of Florida that I may not have visited. This is my list of best kept secrets in Florida. Take your time next time you visit and check them out. You'll be glad you did. Promise!
Silver Springs State Park. I was literally speechless as we kayaked the Silver Springs. Crystal clear water. Eel grass. Alligators, turtles, birds and don't forget about the monkeys! Many TV shows were filmed there along with the movie Creature From The Black Lagoon. As you paddle, keep an eye out for the monkeys. Supposedly according to Wikipedia, the monkeys, rhesus macaques, originate from two small groups released into the Silver Springs state park almost 100 years ago by an eccentric boat captain.
Next, Alligator Farm in St. Augustine, Florida. This fun attraction began in the late 1800's in south Florida before moving north to St. Augustine. Gators, gators, gators! Oh and a few other animals including the crocodiles, birds and Albino alligators. This park is fun for everyone whether you're a child or adult. Make the trip after you visit the Fort and shopping areas of historic St. Augustine.
Tubing at the Ichetucknee Springs State Park is next on the list. Let me tell you this is one of the most relaxing things you may do in Florida. The springs are a perfect 72 degrees year round which is quite refreshing during Florida's hot, humid summer months. Get there early though if tubing is what you want to do. Rangers will close the park when visitors reach a certain number as this spring is protected. When you first dip your toe into the crystal clear waters, you'll see why I'm so grateful it is protected. I actually had a manatee swim right underneath me when tubing this river.
Thank you for reading this post. Don't forget to subscribe! This way you never miss an update, travel deals, discounts and more!! Subscribe to the right------>
If you want to see Florida's chubby mermaid, the manatee, you'll want to include Three Sisters Springs located in Crystal River, Florida. In the winter, the manatees search for warm water. Of the many locations in Florida, they turn to are our many springs. In spite of how chubby manatees are, they have little fat on their bodies. The temperature of the springs throughout Florida, tend to be around 68-72 degrees. When the rivers and canals become cool during winter, the manatees move into the springs. Three Sisters Springs is one of them they migrate to giving you a fantastic view of this adorable creature.
Florida Caverns State Park. Yes, we sure do have caves in Florida and this state park is where you'll find them. Located on the panhandle a hop, skip and a jump from Panama City Beach. Check out their cave tours and all the other activities by visiting the Florida State Parks website.
Camp Pennekamp, Key Largo. Oh my gosh. This is one beyond beautiful and if you are anywhere near the Florida Keys, make the trip. From the museum to the mangroves to snorkeling the reef, there is so much to see and do for everyone. The first time I was at John Pennekamp Coral Reef State Park, was with my oldest daughter during her middle school end of the year trip. We snorkeled, kayaked and more and had an absolute blast!
Be sure to bookmark this page as I'll be adding to the list as I continue exploring this beautiful state I call home.
Upcoming Trip?
I like to use Booking for booking not only my hotels, but my tickets and rental cars as well. Makes life so much easier with only having to log into one location for my information.
Be sure to grab my travel tips to save you time and money. You'll also be entered into the weekly drawings.
Register here: Get 100 Travel Tips EVERY traveler should know PLUS entered into the weekly drawing.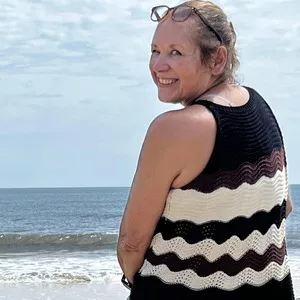 About Denise
Denise Sanger lives a life split between her love for fitness and her passion for travel particularly to the BEACH. Denise also has a love of marketing and lives in beautiful Suwannee County, Florida. You can find out more about Denise here: About Denise