It's okay not to be perfect all the time.
This article may contain affiliate links. Whenever you buy something through one of these links, I may earn a small commission without any cost to you. I really appreciate it as it supports this site and my family. Thank you!
Perfection.  The need to be perfect can be so scary to many of us that it can stop us dead in our tracks.  But when it comes to our health, do we really need to be perfect ALL the time?
Trying to do our best is a great thing but when we are so focused on being perfect that we do not make any progress at all – that's where the trouble is.  This is something I've gotten better at but it definitely is a trait I have that gets me in trouble every so often.
If you are like me, you like to do things right the first time. After all, who wants to have to go back and do it over?  It can be tough if you're the the type of person who likes structure, order and routine (raises hand).
When it comes to my health, however, I've realized it's okay not to be perfect.  What is important is that I actually do something to move forward.
Thank you for reading this post. Don't forget to subscribe! This way you never miss an update, travel deals, discounts and more!! Subscribe to the right------>
As an example, you have your meals planned for the day but at the last-minute, a friend asks you out to lunch.  What do you do?
We have two options – to go or not to go. Some of us would go and enjoy catching up with our friend and not worry about straying for one meal. After all, we will get back on track with dinner.
For others, we would say no because we are afraid of not staying on track with our nutrition program especially if we are trying to lose weight.  The fear is actually that by not staying on track, we will never be able to get back on track. This is the category I used to fall into.  I used to think that if I got off track at lunch, I'd give up for the day and start over in the morning.
You know what they say about making plans right?  So of course, I'm planning on getting back on track the next day WHEN something else happens and I'm off track before I walk out the door.  One meal leads to another meal which leads to another day which ends up into the next week. See the picture?
The good news is there is more to life than being perfect. When we allow ourselves a little wiggle room, it makes it easier for us to get back on track. And by allowing ourselves not to be perfect, we often find we are moving forward at a faster pace. And we are happier too.
Have a great week!
To your health,
Denise
Upcoming Trip?
I like to use Booking for booking not only my hotels, but my tickets and rental cars as well. Makes life so much easier with only having to log into one location for my information.
Be sure to grab my travel tips to save you time and money. You'll also be entered into the weekly drawings.
Register here: Get 100 Travel Tips EVERY traveler should know PLUS entered into the weekly drawing.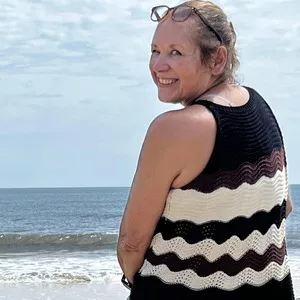 About Denise
Denise Sanger lives a life split between her love for fitness and her passion for travel particularly to the BEACH. Denise also has a love of marketing and lives in beautiful Suwannee County, Florida. You can find out more about Denise here: About Denise