Tips To Manage Holiday Stress
This article may contain affiliate links. Whenever you buy something through one of these links, I may earn a small commission without any cost to you. I really appreciate it as it supports this site and my family. Thank you!
Tis the season. Are you thinking the holiday season? I'm talking about the holiday stress season. The holidays are supposed to be about joy and fun memories, yet for many this time of year can create feelings of anxiety, depression and frustration.
Stress can literally ruin the holidays so it's important to take a moment to breathe and regroup. Don't be so hard on yourself trying to create a "picture perfect" holiday. The Hallmark Channel has a lock on creating perfect Christmases. Reality is never as perfect as what you watch in movies.
This year, keep the focus on enjoying the holiday season with these simple tips:
Reach out. The most important thing you can do when you are feeling overwhelmed or depressed is to reach out to someone. Attend social events at church or in your community. Another fantastic way to reach out is by volunteering your time. Helping others is a fantastic way to give back to your community and will help lift your spirits. If you feel you are not able to deal with these emotions on your own, please call someone. The Suicide Prevention Lifeline telephone number is 1-800-273-8255. Please pick up the phone and call or text. The Lifeline provides 24/7, free and confidential support for people in distress as well as prevention and crisis resources for you or your loved ones.
Acknowledge your feelings. It's okay to feel sadness if you have recently lost a loved one or are not able to be with family during the holiday season. Take the time you need to grieve without feeling guilty.
Stop trying to be so flipping perfect all the time. Life isn't picture perfect every day. Be willing to adapt and try new things. This is especially important if your family is not in one location during the holidays. You might not be able to sit down at the dinner table together but use the technology we have available to bring everyone together – whether its in person or via Facetime.
Shelve your disagreements. Be open and accept people as they are. After all it would be a very boring world if we were all the same.
Stick to a budget. This is probably by far one of the biggest stressors we deal with. Trying to make everyone happy by buying stacks of gifts? There's a problem if you overextend yourself. YOU have to face the bills in the New Year. Create a budget and stick to it this year.
Say no. Something as simple as this little 2 letter word can make a huge difference. It's okay to say no once in a while. You don't have to be at every event the holiday brings. If you can't make a brunch on a Sunday, don't feel guilty saying that you won't be able to attend. I recommend you read this next: One word keeps stress in check.
Don't skip your healthy habits. For me, exercise is as much mental as it is physical. I find myself less patient on days I haven't take a few minutes to exercise, do yoga or take a walk. Make the time to exercise while also staying on track with your healthy eating. You'll feel better when you do.
Breathe. Take some time for yourself away from the craziness and simply breathe. As little as 10 minutes alone can clear your mind and restore your mood.
This year vow to not let anxiety and stress ruin the holidays for you by remembering what's important. Let all the other things roll away like water off a duck's back. Have an amazing week!
Thank you for reading this post. Don't forget to subscribe! This way you never miss an update, travel deals, discounts and more!! Subscribe to the right------>
To your health,
Denise
Upcoming Trip?
I like to use Booking for booking not only my hotels, but my tickets and rental cars as well. Makes life so much easier with only having to log into one location for my information.
Be sure to grab my travel tips to save you time and money. You'll also be entered into the weekly drawings.
Register here: Get 100 Travel Tips EVERY traveler should know PLUS entered into the weekly drawing.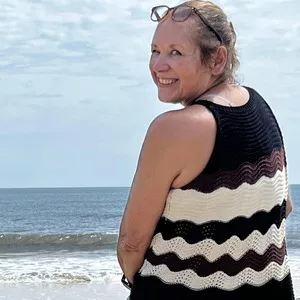 About Denise
Denise Sanger lives a life split between her love for fitness and her passion for travel particularly to the BEACH. Denise also has a love of marketing and lives in beautiful Suwannee County, Florida. You can find out more about Denise here: About Denise