Stressed Equals Desserts?
This article may contain affiliate links. Whenever you buy something through one of these links, I may earn a small commission without any cost to you. I really appreciate it as it supports this site and my family. Thank you!
Ever notice that desserts is stressed spelled backwards? So does that mean stressed equals we can eat desserts?
Whew! What a crazy week we had in North Florida. When you look at the big picture though, we were truly blessed that Ms. Hurricane Irma lost strength before arriving in Suwannee County. We are not out of the woods yet as hurricane season runs through the end of November. There are a few shady characters spinning around right now in the Atlantic. Let's pray they stay out there and away from land.
How stressed were you feeling with all the craziness? I was actually okay for the most part UNTIL our DSL was out for several days. Then my stress went from zero to 100 rather quickly.
When your livelihood depends on connectivity and you do not have internet, you have to figure something out fast. My husband and I drove to our daughter's house in Tallahassee last Wednesday and luckily we were able to take care of the most important items. What we witnessed though was even more important than getting our business back on track.
We watched caravan after caravan of utility companies, disaster relief and many others coming into our state to help us all get back on our feet. Our local utility companies went above and beyond to get electricity and phone to everyone and for that I give them a great big THANK YOU! Proud American moment.
Thank you for reading this post. Don't forget to subscribe! This way you never miss an update, travel deals, discounts and more!! Subscribe to the right------>
While I learned it is not pleasant being without electricity and especially air conditioning when the temps were mid-90's, what really got me was not having internet. Like put me in a straight-jacket for the day so I don't hurt anyone frame of mind.
Seriously. How could this stress me out as much as it did? When I think back to when I was a kid, we didn't have air conditioning in the summer – you opened the windows and played outside. We didn't walk around with phones in our pockets. When I first became aware of phones, they were on the wall and shared with several other families as in party lines. Some of those people would NEVER stop talking!
Today we are literally plugged in 24/7 and that may not always be a good thing. Last week brought me right back to feeling anxious and stressed because I wasn't able to do what I felt needed to be done. Simply put? I was not in control and when I feel I am not in control, my stress goes through the roof.
Not only did I feel stressed but my feeling of being out of control triggered annoying habits that I thought were behind me. Mindless eating. Not drinking the water my body needs. Knowing I needed to exercise to help with the stress but not wanting to get up and do it. Since I was so wrapped up and focused on what I was NOT able to do, I couldn't do what I needed to do. It literally took me leaving my house and driving to Tallahassee to realize what was happening.
How do you deal with stress? Are you able to snap out of it when something triggers it? For me it comes down to paying attention. My body signals when I am stressed as I feel grumpy and have trouble sleeping. Once I become aware of it, I am better able to manage it.
Take a moment and think about what signals your body is sending when stress comes knocking at your door. These signals mean it is time to slow down and take a few moments to yourself. Have a wonderful week!
To your health,
Denise
Upcoming Trip?
I like to use Booking for booking not only my hotels, but my tickets and rental cars as well. Makes life so much easier with only having to log into one location for my information.
Be sure to grab my travel tips to save you time and money. You'll also be entered into the weekly drawings.
Register here: Get 100 Travel Tips EVERY traveler should know PLUS entered into the weekly drawing.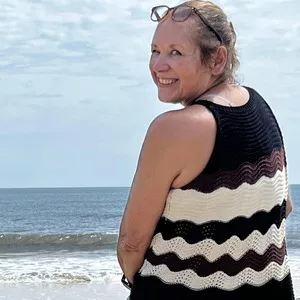 About Denise
Denise Sanger lives a life split between her love for fitness and her passion for travel particularly to the BEACH. Denise also has a love of marketing and lives in beautiful Suwannee County, Florida. You can find out more about Denise here: About Denise