This article may contain affiliate links. Whenver you buy something through one of these links, I may earn a small commission without any cost to you. Thank you!
Shut down negative thoughts.
Last week I wrote about being in Panama City Beach for my anniversary.  I'm grateful we went the weekend before this past Memorial Day since the weather was absolutely gorgeous and this week we are dealing with a tropical storm.




I admit it. I'm a people watcher because people amaze me.  You see so many good things and unfortunately some bad things when you people watch.  While sitting on the beach watching folks as they walked by, I probably had a hundred thoughts go through my head.  People walk the beach. Some run on the beach. Others are in the water. and many are stooped over with their elbows and butts in the air looking for the perfect seashell. No matter what folks are doing, they are all enjoying the day at the beach.
I watched women strolling by in their bikinis and thought to myself, when was the last time I wore a bikini? Has to be several years back before my hysterectomy.  I used to love wearing a bikini.  Now my thoughts range from should a 56-year-old woman wear a 2 piece bathing suit to that woman looks about my age and she looks amazing in her bikini.
Girls walked by with boys following not too far behind.  My thoughts? I sure miss my 25-year-old butt to that bikini bottom cannot be comfortable. I had a whole lot of unimportant thoughts going in and out of my brain while people watching.
After sitting for a while, I decide I need to go into the water to cool off. Up off the chair I go and slowly walk into the ocean.  The red flag is flying so I know the surf is rough but I figure it will be no problem to ease into the water.
What happened next? WHAM! The incoming wave coupled with the outgoing surf knocked me right on my butt.  My first thought? Well that was probably a pretty sight to those sitting on the beach. Payback for my thoughts while people watching. Try to stand back up, literally clawing at the sand because there is a drop off from the beach into the water and what happens? BAM! Knocked right back down on my keister.
I look up to the sky and say "really?"  Then it dawns on me.  I got knocked on my butt twice because I needed to get control of my negative thoughts. I usually do not let negative thoughts get the best of me but while relaxing on the beach, my thoughts wandered and some of those thoughts definitely needed to be wrangled.
Wouldn't it be amazing if every time we had negative thoughts, we would get "knocked" on our butt so we could stop those thoughts dead in their tracks?  It may sound crazy, but we can. When you find yourself with a negative thought,  take a moment, say stop, then shake your head and imagine throwing those negative thoughts out with the trash.
The simple moment of becoming aware then discarding those negative thoughts will get you right back on track.  And you won't need to get knocked on your butt twice to shake them off.
Have an amazing week!
To your health,
Denise
Upcoming Trip?
I like to use TripAdvisor for booking not only my hotels, but my tickets and rental cars as well. Makes life so much easier with only having to log into one location for my information.
Be sure to grab my travel tips to save you time and money. You'll also be entered into the weekly drawings.
Register here: Get 100 Travel Tips EVERY traveler should know PLUS entered into the weekly drawing.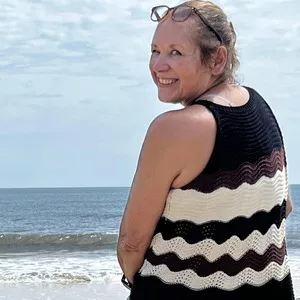 About Denise
Denise Sanger lives a life split between her love for fitness and her passion for travel particularly to the BEACH. Denise also has a love of marketing and lives in beautiful Suwannee County, Florida. You can find out more about Denise here: About Denise