Slow Down. You're Moving Too Fast. No More Stress!
This article may contain affiliate links. Whenever you buy something through one of these links, I may earn a small commission without any cost to you. I really appreciate it as it supports this site and my family. Thank you!
Say goodbye to stress this year.
"Slow down. You move too fast.  You've got to make the morning last. Just kicking down the cobble stones. Looking for fun and feelin' groovy."   Simon & Garfunkel
I've ALWAYS loved this song by Simon and Garfunkel even though many times I'm so in my head that I forget to simply be in the moment and enjoy the great big world we live in.  Stress, at least for me, plays a very big role in that. My resolution for 2017 is to slow down. (Need help keeping your resolutions? Click here to read Resolutions You Can Keep) Life is flying by us all and we often forget the important things we should be paying attention to.




The funny thing – at least for me – is that my resolution to slow down and reduce stress was actually on my list last year and the year before that and so on. Think stress is a factor in my life? What reminded me of it was a memory of my dog that came up in my Facebook feed. If you are on Facebook you probably know what I am referring to with the memories that often appear in our news feed. If you are not, Facebook shows you memories from past posts or pictures that you may have made and gives you the option to re-share the post.
In my feed was a picture of Shadow.  I wrote about her last year but to remind you, Shadow is the dog that took me a year to get out of the woods at the top of my road. When she first showed up, she hid in the woods terrified of all people. I can only imagine how she came to be in the woods and am very grateful that my neighbors are kind people.  She would peek at me as I would walk by in the morning coming a little bit further out of the woods as the months went on.  
Once I confirmed she was a stray, I started feeding her every morning and would carry a bowl of food up to her and place it with a bowl of water at the edge of the woods. She still wouldn't come to me but one day as I was walking up the road with her food, a neighbor stopped me and said your dog is waiting for you.  I wasn't quite sure what that meant until I got further up the road and saw her sitting on the side of the road tail wagging when she spotted me.
Unfortunately the closer I got to her, the more she backed up and eventually ran into the woods.  I left her food and continued on my walk but this day she actually followed me a little bit down the road. In the meantime, another stray, Scotchie showed up in our yard and we adopted her and she became and continues to be my walking buddy.  Little did I know that Scotchie would be the way we would convince Shadow to become part of our family but that is what happened. She followed myself and Scotchie home one day and within three days, she became part of our family.
Thank you for reading this post. Don't forget to subscribe! This way you never miss an update, travel deals, discounts and more!! Subscribe to the right------>
Seeing the picture of Shadow reminded me that it took about a year of feeding her every morning to finally becoming a person that she could trust.  Many times during that year, I felt that this dog would never trust me enough to come out of the woods.  But in the of all the craziness that is life, she finally did.  
As mentioned in last week's article, change is not easy no matter what type of change it is. For Shadow, she had a deep mistrust of people and it took a year for her to finally trust me.  My resolution to change the amount of stress is my life is still on my list after many years and is something that I continue to work on again this year.  Will I reach this goal? Not sure but just seeing Shadow's picture in my memory reminded me that change is indeed possible – it just may take a while but if you keep moving forward toward your goal, you will reach it.  Happy New Year friends!
Upcoming Trip?
I like to use Booking for booking not only my hotels, but my tickets and rental cars as well. Makes life so much easier with only having to log into one location for my information.
Be sure to grab my travel tips to save you time and money. You'll also be entered into the weekly drawings.
Register here: Get 100 Travel Tips EVERY traveler should know PLUS entered into the weekly drawing.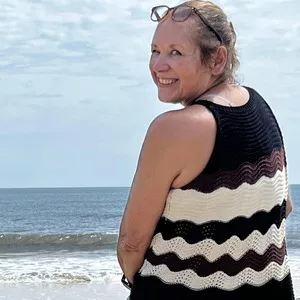 About Denise
Denise Sanger lives a life split between her love for fitness and her passion for travel particularly to the BEACH. Denise also has a love of marketing and lives in beautiful Suwannee County, Florida. You can find out more about Denise here: About Denise