Slow and steady fitness journey to win the race.
This article may contain affiliate links. Whenever you buy something through one of these links, I may earn a small commission without any cost to you. I really appreciate it as it supports this site and my family. Thank you!
When I think of slow and steady, it reminds me of Aesop's fable of "The Tortoise and the Hare."  The hare went full out to win the race when he decided to stop and take a nap because he was so far in front of the tortoise.  In the meantime, the tortoise kept moving steadily forward towards the finish line.  By the time the hare woke up, the tortoise had won the race.
Slow and steady to win the race can be applied to many things including your health and wellness.  Admit it. We all want to have immediate results and have all tried short cuts at one time or another. I know I have.  I can also tell you that when I have taken those short cuts, the results did not last whether it is weight loss, fitness or anything important for that matter.
Those diets you see on TV promising you quick results and rock hard abs?  Be prepared to be disappointed and a little more lighter in the wallet because there is no overnight quick fix to getting healthy.  The best way to reach your health and wellness goals is to first commit then follow through.
Thank you for reading this post. Don't forget to subscribe! This way you never miss an update, travel deals, discounts and more!! Subscribe to the right------>
Fat doesn't fall off our body in one day even though TV commercials have us thinking that it can with a little magic pill.   It took more than a few days to gain weight and become inactive.  Don't expect that following a program for a few days is all you need to do.
When you feel like giving up, remind yourself to go slow and steady. These tips might help:
Don't obsess over how you got to where you are.  Focus your attention on what you are doing that will help you move forward not back.
Do one thing every day that helps you move toward your goal.   One positive thing generally leads to another.
Remove the word can't from your vocabulary.  If there is one word that was not used often in my home growing up it was the word can't.  My mother and father never told us we couldn't do something.  We were told to figure out how we could make it happen. Same thing here. Get control of those negative thoughts and lock them away.
Keep an open mind. Fitness isn't a size or special look.  It's different for everyone.  My fitness at 57 is significantly different than my fitness was at 27.  What matters to me is how I feel not how I look. And I feel pretty darn amazing with my BP sitting at 118/72 these days even though I'm fluffier than I'd like to be.  Look a the BIG picture.
Think of slow as a positive thing.  As an example, I recently read an article on how beneficial slow or what I call and teach "Gentle Flow Yoga" is for the body versus the current trend of high intensity fitness yoga.  Don't get me wrong. I believe EVERYONE no matter what their age, should be doing yoga for the many benefits it provides to the body. If you prefer a more rigorous yoga practice, that is what you should do.  But do not discount the benefits of slowing things down with a more mindful yoga practice where you bring your awareness to your body and how it moves while focusing on your breathing.  This same philosophy can be applied to your health and wellness journey.
Finally show the haters the door and boot them out.  We battle enough with ourselves to stay on track. Why would we even allow dream killers into our world?  Don't let those people get to you.  Remember the only person you can change is yourself.  Focus on doing just that.
Those days when life seems a little tough, remember the story of the Tortoise and the Hare and push through like the tortoise did to win your slow and steady fitness journey.  You can do it.  Have a wonderful week.
To your health,
Denise
Upcoming Trip?
I like to use Booking for booking not only my hotels, but my tickets and rental cars as well. Makes life so much easier with only having to log into one location for my information.
Be sure to grab my travel tips to save you time and money. You'll also be entered into the weekly drawings.
Register here: Get 100 Travel Tips EVERY traveler should know PLUS entered into the weekly drawing.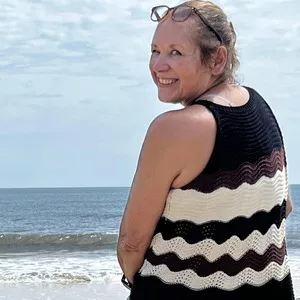 About Denise
Denise Sanger lives a life split between her love for fitness and her passion for travel particularly to the BEACH. Denise also has a love of marketing and lives in beautiful Suwannee County, Florida. You can find out more about Denise here: About Denise