Reasons to go outside even when it's cold.
This article may contain affiliate links. Whenever you buy something through one of these links, I may earn a small commission without any cost to you. I really appreciate it as it supports this site and my family. Thank you!
But it's cold outside! What do you do when it's cold and need a push? You find several good reasons to go outside when it's cold.
A few years back on a chilly day, some friends and I loaded up our kayaks and headed to King's Landing in Apopka, Florida. I had never been so was truly looking forward to this kayaking trip. Only problem? It was a wee bit chilly.
Bundle up and head outside. You feel better. Promise.
The weather didn't stop us though as this was a trip we rescheduled due to rain a few weeks earlier. It did take a little more planning as far as what to wear and bring.
But I got it all figured out and went with a nice sexy bulky layered look. I don't care who you are, when you put on layers of clothes, even the thinnest people look fluffier than normal.
Thank you for reading this post. Don't forget to subscribe! This way you never miss an update, travel deals, discounts and more!! Subscribe to the right------>
We headed south at sunrise and three hours later pulled into King's Landing. Checked in and off on the Wekiva River we went.
The first portion of the trip, we paddled upstream for a look at pristine crystal clear waters before heading downstream for the rest of the 8.5-mile trip.
There was a moment where I thought to myself maybe it is going to be too cold to enjoy kayaking, but I am truly glad that didn't stop me from going. From the moment my butt hit the kayak seat, I was comfortable; even with only flip-flops on my feet.
Well except for the gators we saw on the river banks. Quick way to warm up? Paddle fast!
People always say to me "how can you be cold? You're from Cleveland." Well I've been in Florida over 30 years, so I'm more Floridian than an Ohioan these days and trust me I definitely feel the cold. Especially that bone chilling, damp cold.
It's easy to let our thoughts get in the way, and we can talk ourselves out of doing something we want to do. Especially in the winter when the temps can get pretty nippy, and it's easy to want to stay indoors.
It's natural to want to hibernate when it's cold outside, but it's better for you mentally and physically if you put on what MIGHT feel like all your clothes and head outside. (Be sure to read this next: An easy way to stay healthy.)
Research has shown that hunkering down to ride out the winter months is not normal for humans. Too little sunlight and outdoor time can affect us mentally as well as physically causing us to feel tired and possibly depressed.
Still not convinced? Here are a few more good reasons to go outside when it's cold.
Spending time outside and in nature helps lift your mood. Natural sunlight raises your serotonin levels – the feel good hormone.
You'll boost your vitamin D in as little as 10 minutes. Bundle up and take a brisk walk.
Spending time outdoors whether it's warm OR cold can boost your memory.
And most important? Heading outdoors can boost your immune system. How? When you exercise outside on a chilly day, it actually helps flush bacteria out of your lungs and airways (according to Medline Plus).
Did I give you enough good reasons to go outside when it's cold? Embrace those chilly days when they arrive and head outdoors.
Need some ideas? Check out some of our adventures here: Outdoor Adventures You'll feel better. Promise. Enjoy your week!
Upcoming Trip?
I like to use Booking for booking not only my hotels, but my tickets and rental cars as well. Makes life so much easier with only having to log into one location for my information.
Be sure to grab my travel tips to save you time and money. You'll also be entered into the weekly drawings.
Register here: Get 100 Travel Tips EVERY traveler should know PLUS entered into the weekly drawing.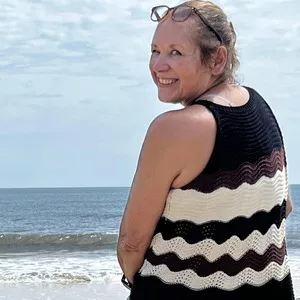 About Denise
Denise Sanger lives a life split between her love for fitness and her passion for travel particularly to the BEACH. Denise also has a love of marketing and lives in beautiful Suwannee County, Florida. You can find out more about Denise here: About Denise