Ready to get healthy? Set a deadline and create goals.
This article may contain affiliate links. Whenever you buy something through one of these links, I may earn a small commission without any cost to you. I really appreciate it as it supports this site and my family. Thank you!
"You don't have to be great to start, but you have to start to be great." ~ Zig Ziglar.
Cannot say it any better than Zig Ziglar.  If you want to reach your goals, you have to start.  So many people go off track before they even begin because they delay taking that first step – starting.  A few years ago, I read a fantastic book that advised we should look at goals in 12 week increments instead of annually.  What happens is that our deadline to reach our goals is sooner which helps to keep us on track.




It makes sense when you think of 12 weeks for health and fitness goals.  When we want to fit into a certain dress before we go to a special event such as a wedding or party, we head back to the gym about 3 months before that date.  Want to lose weight before summer? We start in Spring.   12 weeks is not only doable but we believe we can stick with it anything for a few months.
When setting future goals, we do not do as well.  Examples would be to lose so many pounds this year.  We want to run a marathon next year.  We go off track for two main reason.  The first reason is that we are unrealistic with our deadlines.  The second reason is that we put the deadlines too far out.  Both are equally damaging to meeting your goals.
When we create unrealistic deadlines, we set ourselves up to fail. As an example, you want to lose 25 pounds in 2 weeks before a special event. Take a step back and really think about this goal you've strapped yourself with.   What are the chances that you will be successful in losing that amount of weight in that time-frame?  Slim to none.  You did not gain 25 pounds overnight why would you believe you can lose 25 pounds in two weeks unless you literally starve yourself?
The second part of the equation is setting goals too far out.  When we do that, we can easily think of reasons why we do not need to stick to a plan to reach the goal.
Thank you for reading this post. Don't forget to subscribe! This way you never miss an update, travel deals, discounts and more!! Subscribe to the right------>
You want to lose 26 pounds this year – which is very doable by the way – that is only ½ pound per week.  But you tell yourself you don't have to change the way you eat today or start to exercise this week.  You can get started next week or next month.   It is simply too easy to keep putting off what you know you need to do. After all you have time, right?
My medical issue slowed my weight loss down but I never stopped exercising.  Also lucky for me I have a fitness family that has been with me through the ups and downs of the past year.  Having people that support you through the good and the bad times, helps you stay on track.  BUT I took the first step.  I started.  I hope you do too.
To your health,
Denise
Upcoming Trip?
I like to use Booking for booking not only my hotels, but my tickets and rental cars as well. Makes life so much easier with only having to log into one location for my information.
Be sure to grab my travel tips to save you time and money. You'll also be entered into the weekly drawings.
Register here: Get 100 Travel Tips EVERY traveler should know PLUS entered into the weekly drawing.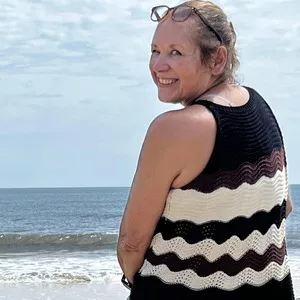 About Denise
Denise Sanger lives a life split between her love for fitness and her passion for travel particularly to the BEACH. Denise also has a love of marketing and lives in beautiful Suwannee County, Florida. You can find out more about Denise here: About Denise