Making friends with the enemy.
This article may contain affiliate links. Whenever you buy something through one of these links, I may earn a small commission without any cost to you. I really appreciate it as it supports this site and my family. Thank you!
Watch out for the enemy inside your house!
For the most part, I'm a live and let live kind of gal. A no drama, let go let God type of person. I can easily walk away from people or things that may create chaos in my life without so much as a backward glance. I simply won't allow stupid things to ruin my day. After all save the drama for your mama as the saying goes.
But there is one that I hate. Her. Can't stand to even look at her let alone be in the same room that she's in. She can totally tick me off with a simple glance. When I walk by and see her, I have to close the door so I won't have to look at her again.
Unfortunately, the time has come where I have to face her even though I really don't want to. After all she can ruin the day of some of the happiest people I know. Who is she? She is the ugly scale that sits in the guest bathroom in my house.
Thank you for reading this post. Don't forget to subscribe! This way you never miss an update, travel deals, discounts and more!! Subscribe to the right------>
No one and no thing will have control over me and that includes her – the scale. I decided it's time to make friends with her. Well maybe not friends but at least passing acquaintances.
So I go into the guest bathroom, close my eyes and step on the scale. Last time I stepped on the scale was at the doctor's office a few months back so I was hoping I was still in the same ballpark as far as my weight. Peeked open an eye, looked down and what did I see – ERROR.
She will NOT win this battle!
Really? Are you kidding me? I finally suck it up and step on the scale and the witch won't tell me my weight. Alright woman. You are so not going to win this battle. So I put her in the hallway and step on her again. This time she must have figured out I wasn't playing around because she displayed my weight. Where I wanted it? No but at least I had maintained versus gaining weight which is fantastic considering my struggle since my hysterectomy. I recommend you read Because Menopause Belly Sucks next.
Here's the thing. I've decided to look at HER as a friend versus a foe. Someone who only wants the best for me. I've committed to stepping on her daily for the next 80 days. Why 80 days? I want to compete in the Hammerhead Triathlon this year at Camp Blanding. It's been two years since the Marine Corps Marathon and my hip injury. I want to go to this triathlon healthy and come out injury free. Making friends with her will help me stay on track with my nutrition.
If it's as important to you as is it to me to live a healthy lifestyle, I'd like to recommend you too become friends with your scale. But keep it in perspective and use it as a guideline as I am to keep my nutrition on track and reach my next goal.
I would love for you to join me. Head over to my Facebook Page – Healthy After 50 with Denise Sanger and post your week 1 picture and let's rock the next 80 days!
Have an amazing week!
To your health,
Denise
Upcoming Trip?
I like to use Booking for booking not only my hotels, but my tickets and rental cars as well. Makes life so much easier with only having to log into one location for my information.
Be sure to grab my travel tips to save you time and money. You'll also be entered into the weekly drawings.
Register here: Get 100 Travel Tips EVERY traveler should know PLUS entered into the weekly drawing.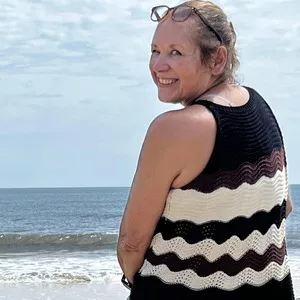 About Denise
Denise Sanger lives a life split between her love for fitness and her passion for travel particularly to the BEACH. Denise also has a love of marketing and lives in beautiful Suwannee County, Florida. You can find out more about Denise here: About Denise