Knowing when to back off exercise.
This article may contain affiliate links. Whenever you buy something through one of these links, I may earn a small commission without any cost to you. I really appreciate it as it supports this site and my family. Thank you!
Whew! By last Friday, I was physically and emotionally drained. I knew by how my body felt that I desperately needed to take a break and have a rest day. That's not easy for me to write either because I am one that will push and push until I literally drop.
How many of you are exactly the same way? How many of you end the day Friday actually dreading the weekend because it's as jam packed as your week was? If that sounds like you, do you know when it's time to back off exercise or anything for that matter and rest? I recommend you read this article next: Make time for a YOUcation.)
It's easy when I'm teaching my fitness classes. I listen to my body and tell folks in class the same thing. Sore is okay but pain is never okay. So how do you know when to push and when to back off when you're not in exercise class? The exact same way by listening to your body.
After a particularly busy or stressful week, not only have you earned a rest day or two – your body NEEDS it. But let's be clear. A rest day doesn't necessarily mean sitting on the couch for two days doing nothing – unless that's what you want to do. For me, my feet would start itching to get up and get moving. Remember the goal is to relax not stress yourself out.
Thank you for reading this post. Don't forget to subscribe! This way you never miss an update, travel deals, discounts and more!! Subscribe to the right------>
Think you don't have time for a rest day? Here's the thing. The harder you go, the more you need to pencil in that rest day. Your body – and your mind – need to recover.
I know first hand how hard it is to back off but I'm getting better at it. If I need to finish up a project or work on a new exercise class, I focus and get it done. Once it's done, not only is it off my to do list, it's off my mind which is a signal to my body that it's okay to take some down time.
So before you start filling every second of the next weekend or your next day off, add some much needed downtime to the list. Catch up with friends. Take a nap. Go for a walk. Float in the pool. Read a book. Whatever will nourish your soul and put a smile on your face, do it. Have an amazing week.
To your health,
Denise
Upcoming Trip?
I like to use Booking for booking not only my hotels, but my tickets and rental cars as well. Makes life so much easier with only having to log into one location for my information.
Be sure to grab my travel tips to save you time and money. You'll also be entered into the weekly drawings.
Register here: Get 100 Travel Tips EVERY traveler should know PLUS entered into the weekly drawing.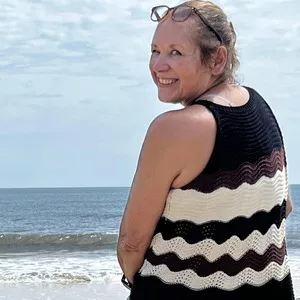 About Denise
Denise Sanger lives a life split between her love for fitness and her passion for travel particularly to the BEACH. Denise also has a love of marketing and lives in beautiful Suwannee County, Florida. You can find out more about Denise here: About Denise