It's never to late to start exercising.
This article may contain affiliate links. Whenever you buy something through one of these links, I may earn a small commission without any cost to you. I really appreciate it as it supports this site and my family. Thank you!
When it comes to exercise, no two people are alike. Some of us have been active most of our lives while others have really never given exercise a second thought.
Saturday morning while watching the news (which is a RARE occasion for me but I was checking on Hurricane Dorian), one of the features was about whether it's too late to start an exercise program. The good news? It's never too late.
One of the things many people say to me is "it's too late for me to start exercising." My response? Absolutely not. There are many folks that don't start exercising until the kids are are out of the house or even until they retire.
A study was conducted on a group of 60-80 year old folks that really had never been active throughout their lives. This group started exercising including strength training. The result? Their muscles grew and got stronger – just like the group that had continually exercised throughout their lives.
Thank you for reading this post. Don't forget to subscribe! This way you never miss an update, travel deals, discounts and more!! Subscribe to the right------>
So where do you start? You start right where you are and take it slow. Most important? Don't give in to the negative thoughts that may go through your head or even to family or friends that say to you "why bother?" You keep on moving forward. Here are few suggestions that might help you:
Find a reason to be active. Could be your doctor has told you to get off your butt and get moving or maybe you have grandchildren you're trying to keep up with. Whatever your reason is, finding it will help you stay on track.
Start slowly. This is KEY. Don't decide one day you're going to start exercising after being inactive for a long period of time. That is a sure fire way to end up sore and not wanting to move for the next week. Take a nice leisurely walk and enjoy being in nature or chatting with neighbors as you stroll by. Take a fitness class at the gym – looking for classes designed for beginners like Senior Sweat & Tone or Water Aerobics. Only attend these classes twice a week or every other day to start. This will allow your body to get used to being active.
Try a variety of activities and find one you like. Not everyone enjoys walking but they might enjoy playing tennis or kayaking. Some like to go to the gym and use the equipment while others prefer to exercise with a group a people. Finding an activity you enjoy will go a long way to keep you moving.
Make activity a part of your day. This doesn't necessarily mean a set time to exercise. What this means is to incorporate activity into your normal day. Park farther away from the store. Take your dog for a walk instead of letting him/her out your back door. If you can, choose the stairs over the elevator.
Little changes can add up to big results. Not only will you look better, you'll feel better too. Have an awesome week!
To your health,
Denise
p.s. Don't feel left out. Grab this Buffalo Cauliflower Bites Recipe! Have plenty on hand for football season or anytime you're getting together with friends and you'll never feel left out when the snacks appear.
Upcoming Trip?
I like to use Booking for booking not only my hotels, but my tickets and rental cars as well. Makes life so much easier with only having to log into one location for my information.
Be sure to grab my travel tips to save you time and money. You'll also be entered into the weekly drawings.
Register here: Get 100 Travel Tips EVERY traveler should know PLUS entered into the weekly drawing.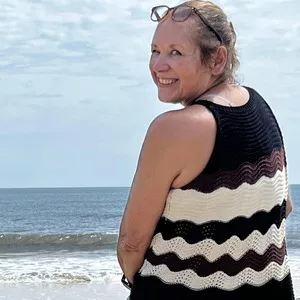 About Denise
Denise Sanger lives a life split between her love for fitness and her passion for travel particularly to the BEACH. Denise also has a love of marketing and lives in beautiful Suwannee County, Florida. You can find out more about Denise here: About Denise