Healthy Living: Weight Loss Hurdles
This article may contain affiliate links. Whenver you buy something through one of these links, I may earn a small commission without any cost to you. Thank you!
Weight Loss Hurdles? What you eat IS more important than exercise.  Start with nutrition.
We all want to be fit.  We want to look good in our jeans and swimsuits. You know what size you "think" you should be – can even see yourself in the perfect dress.  Why is it so hard?





There are so many reasons why we have trouble moving forward to a healthier, fit us.  People tell us all you need to do is eat less than the amount of calories you burn each day. Sounds simple enough right? So where are we going off track?
Fact of the matter,we have outside circumstances that could easily derail us from moving forward and at least 75% of the weight loss equation is nutrition. In other words, life gets in the way of us eating healthy. Let's talk


about the largest hurdles to losing weight and see how to push through them.
Weight Loss Hurdles:
You are super busy.  This is probably one of the most common reasons for not being able to stay on track with your nutrition and it's a valid one. We feel there is not enough time in the day.  We are up with the alarm clock, grab coffee on the way out the door and maybe if we're lucky that holds us until lunch. What we choose for lunch is often not the best for us but it is easy.  How do you fix this?  Believe it or not, taking the time to plan your meals for the week will keep you on track.  I know, I know. You are already super busy. How are you supposed to plan your meals too? Don't make it more difficult than it needs to be.  Write a grocery list then STICK to the list.  When you get home, prep your meals immediately then forget about it for the week.   Think to go breakfasts such as sugar-free muffins or overnight steel-cut oatmeal you simply grab from the fridge.  For lunch, focus on prepping for the week.  Chop veggies, wash fruit and pack as much of your lunch as possible then simply add a healthy sandwich the night before.
You don't want to put in the time.  We all want to go from zero to 60 miles per hour but unless you are a car, plane, motorcycle or anything else that accelerates quickly, you will need to put the time and effort into eating clean.  Taking time to prepare your meals at home versus eating out several times a week is a huge step in the right direction. After all what is more valuable than your health?
You are afraid.  I hear you already – what do you mean I'm afraid? When I say you are afraid, I mean that possibly you are afraid to try new things or that your family will not support your choice to live a healthier lifestyle.  Let's take that fear out of the equation shall we? If you try something new and you don't like it, you never have to eat it again.  As far as your family and friends not being supportive, give them a chance.  They want you to be healthy because they love you and want you around for a long time.
Ready? GREAT! Let's get going.  And when you stumble – and you will stumble – focus on all the good things that come along with being healthier.
To your health,
Denise
Upcoming Trip?
I like to use TripAdvisor for booking not only my hotels, but my tickets and rental cars as well. Makes life so much easier with only having to log into one location for my information.
Be sure to grab my travel tips to save you time and money. You'll also be entered into the weekly drawings.
Register here: Get 100 Travel Tips EVERY traveler should know PLUS entered into the weekly drawing.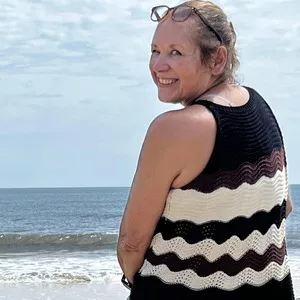 About Denise
Denise Sanger lives a life split between her love for fitness and her passion for travel particularly to the BEACH. Denise also has a love of marketing and lives in beautiful Suwannee County, Florida. You can find out more about Denise here: About Denise