Healthy Living: It's All About That Core.
This article may contain affiliate links. Whenver you buy something through one of these links, I may earn a small commission without any cost to you. Thank you!
Because it's all about that core, bout that core. (Hummed to the tune of "It's All About That Bass" by Meghan Trainer)
A few years back, Meghan Trainer launched her hit  "It's All About That Bass".  I loved that song because I like that she is different from other pop singers. Uniqueness always appeals to me because my motto has always been one size doesn't fit all no matter what we are talking about.  It is thought that the song refers to Ms. Trainer not being stick thin and proud of her behind.  More power to her!




That song came back to me this week when I was chatting with a gal in one of my morning fitness classes.  We were talking about balance and I told her it's all about that core. Needless to say that song has been stuck in my head for about five days or so now so hopefully another song will come along and replace it soon.
Many of us, particularly women, focus on one part of our body that we are not happy with.  It may be our upper arms, our thighs, our chin, our butt and quite often – our belly. Focus that often borders on obsession which is not healthy.
You can literally do 1,000 crunches twice a day and never have a flat stomach. Why? Because there are other factors that come into play including nutrition, genetics, or posture. Even further? You may have factors outside of your control such as abdominal surgery as I did with a hysterectomy.
Unfortunately, my situation did not allow me to have laparoscopic surgery so my abs were literally cut from hip to hip.  Does it upset me? Not really. It is what it is and additional surgeries are not on my list of things to do. Does that mean I have given up on training my abs? Absolutely not.
Since I know that the flat abs of a 25-year-old are out of my reach, why would I continue training them? Because there are so many other equally important reasons to do so including balance and being able to walk, run and even bend over or to reach for something on a high shelf.
Our core is not only about our abs.  Our core is from our shoulders to our hips, front and back. Even if washboard abs are something you can only dream about, strengthening your core will help you in other ways.  Training your core helps you prevent injuries, protects your internal organs, improves posture, and most importantly? You will feel better.
Are you on board now? Wonderful!  Below are a few exercises you can do at home to strengthen your core:
Planks – all types including regular planks, superman planks, rocketman  planks, and side planks. Start with three  20 second basic planks, then as you get stronger, incorporate the more difficult planks while holding the planks for a longer time-frame.
Tabletop crunches.  Lift your legs as if they were resting on an ottoman then perform crunches.
Glute Bridge.  Lift your butt up while keeping your shoulders on the ground so that you form a triangle from your feet to your shoulders.  Be careful so that you are in the correct position and that you don't put unnecessary stress on your neck.
Always remember that quality is more important than quantity so be sure your form is on point – no saggy planks. As your body gets stronger, challenge yourself with more difficult core exercises (my favorites include yoga poses and Pilates).  And if you are trying for a little flatter of a belly, take a good long look at your nutrition. After all? Abs are made in the kitchen. Have a wonderful week!
To your health,
Denise
Upcoming Trip?
I like to use TripAdvisor for booking not only my hotels, but my tickets and rental cars as well. Makes life so much easier with only having to log into one location for my information.
Be sure to grab my travel tips to save you time and money. You'll also be entered into the weekly drawings.
Register here: Get 100 Travel Tips EVERY traveler should know PLUS entered into the weekly drawing.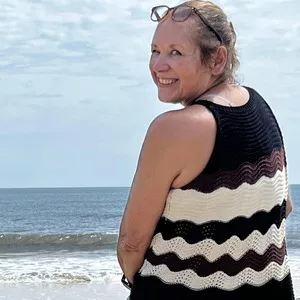 About Denise
Denise Sanger lives a life split between her love for fitness and her passion for travel particularly to the BEACH. Denise also has a love of marketing and lives in beautiful Suwannee County, Florida. You can find out more about Denise here: About Denise