Healthy Living: Gym or not to gym. That is the question.
This article may contain affiliate links. Whenever you buy something through one of these links, I may earn a small commission without any cost to you. I really appreciate it as it supports this site and my family. Thank you!
When you make the commitment to living a healthy lifestyle, eventually your thoughts will turn to exercise. Or rather what's the best way to check exercise off your to do list. Your next thought might be should I join a gym?
My answer? Do whatever will get you moving. For me and many that attend fitness classes or hit the gym, we might exercise but not at the level we do when we're at the gym. Why? The motivation, support, and camaraderie help us push through when we really don't feel like exercising.
For others, they are motivated and disciplined enough that they will exercise each day on their own. They may have fitness equipment in their homes, have a dedicated yoga or pilates practice they follow or possibly they walk or run daily.
If you find that you're struggling to stay consistent with an at home exercise routine, consider these reasons for joining your local gym:
Thank you for reading this post. Don't forget to subscribe! This way you never miss an update, travel deals, discounts and more!! Subscribe to the right------>
Paying for that gym membership can be VERY motivating but there is also something to be said for working out with like minded people. Many friendships are started in the gym which is important for folks that may live alone or are self employed working from home.
More options. When you have a treadmill at home, you're going to use that treadmill a lot. I personally get bored on indoor cardio equipment preferring to be outdoors. But what happens when the weather keeps you inside? The gym has more options to choose from.
Focus. There's not much to do at the gym but workout. There isn't laundry waiting to be washed and folded. There isn't cleaning to be done or kids to be picked up. Nothing to interfere with a good 30 minute workout.
Energy. You are inspired to push a little bit harder when working out next to someone that is giving it all they got.
Will you still get a good workout at home? Absolutely. If like I mentioned above, you are the type of person that is self-motivated, a good piece of equipment may be all you need. Working out at home is also convenient. You don't need to get in your car to drive to the gym. Simply slip on your shoes and get moving. On days when I don't feel like driving to the gym, YogaBurn is one of my at favorite home exercise choices.
Whether you decide to exercise at home or at the gym, it needs to work for you. If you're self-motivated and know you'll exercise no matter what life throws at you, working out at home may be your winning ticket. On the other hand, if you find too many distractions at home, getting out of the house may be a better choice. (Read this next to stay on track with your exercise routine: The Magic Of The Number 40.)
Whatever you choose, get up and get moving. Have an amazing week.
To your health,
Denise
Upcoming Trip?
I like to use Booking for booking not only my hotels, but my tickets and rental cars as well. Makes life so much easier with only having to log into one location for my information.
Be sure to grab my travel tips to save you time and money. You'll also be entered into the weekly drawings.
Register here: Get 100 Travel Tips EVERY traveler should know PLUS entered into the weekly drawing.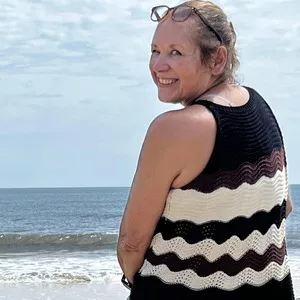 About Denise
Denise Sanger lives a life split between her love for fitness and her passion for travel particularly to the BEACH. Denise also has a love of marketing and lives in beautiful Suwannee County, Florida. You can find out more about Denise here: About Denise