Healthy Living: Exercise Doesn't Have To Be Boring
This article may contain affiliate links. Whenever you buy something through one of these links, I may earn a small commission without any cost to you. I really appreciate it as it supports this site and my family. Thank you!
I want to be healthy but exercise is boring!
A week ago found me in Augusta, Georgia watching my brother complete his first half Ironman.  A half Ironman distance is 70.3 miles and includes 1.2 mile swim, 56 mile bike ride and finishes with a 13.1 (half-marathon) run.
My mom and I drove up to meet my brother and his wife. We were the support team. First of all, I'll be honest. I didn't bother to look where Augusta, GA was actually located in Georgia. Probably a good thing because it is on the border of South Carolina which was a five hour drive.
After morning fitness classes, we jumped in the shower and headed north on US 129 and continued on back roads for most of the trip. What a relaxing ride and I recommend it if you need some downtime. No traffic. Just beautiful winding roads.
Thank you for reading this post. Don't forget to subscribe! This way you never miss an update, travel deals, discounts and more!! Subscribe to the right------>
Exercise can happen when we least expect it!
After we picked up his packet at the Ironman Expo, we went sight-seeing including visiting the Augusta Canal Trail.  Beyond beautiful and definitely a must see sight if you are in the area.  After a few more stops, we had dinner then back to the hotel.  Step count on my Garmin?   Drum roll…..over 13,000.
We called it an early night due to a 4 a.m. wake-up call my brother decided on and which happened.  The next morning, I grabbed my hydration backpack that held water and healthy snacks.  We headed over to where the event was scheduled to start and found a parking spot then walked to the marking section. The marking section is where they mark your number and age at various spots of your body for easy identification while you are on the course.
It was a mile walk back down the Savannah River to the spot where the swim would begin.  We walked part-way then found a great spot to watch the swimmers and enjoy the sunrise.  After he finished the swim, into transition and on his bike he went.  Only three miles of the bike ride were in Georgia. The rest were in South Carolina.
When you enjoy your day, your activity adds up.
We had plenty of downtime so we decided to find breakfast then stake out a spot where we would be able to watch him on the run portion.  After looking at the map, we determined we would be able to spot him four different times as he ran the course.  After a little shuffling back and forth, we did see him several times and then made it back to watch him cross the finish line.  Time? 6:38 which is fantastic for a first half Ironman.
After we reconnected with my brother, we walked to the car to try to get closer to the transition area where the bike was.  Grabbed the bike and loaded up to go find "linner" – you know that meal between lunch and dinner!  After we sat down, I again took a look at my Garmin and was shocked to see that as a result of our walking throughout the day, I had more than 17,000 steps registered.
I only focused on my brother, family and the events of the day and never thought anything about exercise.  Simply enjoyed being outdoors with family watching an event.  Sometimes we make things much more difficult than they need to be including squeezing exercise into our days.  This week, make an effort to get up and get moving.  Call your family or friends and get together. Does not matter what you do.  What matters is that you do something.  I have a sneaky feeling you'll be surprised by how active you can be without trying very hard.
Have a wonderful week.
To your health,
Denise
Upcoming Trip?
I like to use Booking for booking not only my hotels, but my tickets and rental cars as well. Makes life so much easier with only having to log into one location for my information.
Be sure to grab my travel tips to save you time and money. You'll also be entered into the weekly drawings.
Register here: Get 100 Travel Tips EVERY traveler should know PLUS entered into the weekly drawing.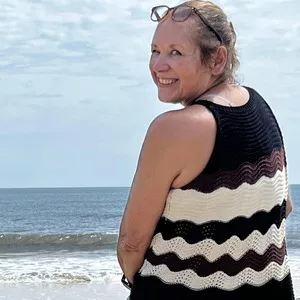 About Denise
Denise Sanger lives a life split between her love for fitness and her passion for travel particularly to the BEACH. Denise also has a love of marketing and lives in beautiful Suwannee County, Florida. You can find out more about Denise here: About Denise