Healthy Living: 5 Steps To Take Today
This article may contain affiliate links. Whenever you buy something through one of these links, I may earn a small commission without any cost to you. I really appreciate it as it supports this site and my family. Thank you!
Making healthy living a priority is where you start!
Not sure about you but for me I must see or hear at least a minimum of 10 advertisements a day for weight loss products and various diets.  And I'm not one that watches a lot of TV. That tells you that there is BIG money to be made in the weight loss industry.




The sheer number of products available can be overwhelming.  Is there a trick or a special diet that will help you lose weight, get fit and healthy?  I'm sure there are several that may work for you but getting started doesn't need to cost you anything or be difficult.
Let's start with these five practical steps you can take today for a healthier you tomorrow:
Have you had your yearly check-up with your doctor and dentist?  That's the first step so you can get the facts as to where you are today with your health and wellness. It's easy to put off going to the doctor until we are sick or to the dentist until something hurts in your mouth. Be proactive and call your doctor and dentist today for your annual physical and dental appointment.  
Keep track of what you are eating.  It never fails to amaze me how fast we can get off track when we are not paying attention to what we are eating.  It happens to me too.  One day I'm sailing along and the next day, my jeans feel a wee bit too tight and I instantly know I have not been paying attention to my nutrition.  I've mentioned it before but My Fitness Pal is a free app that you can download to your phone, notepad or computer to easily keep track of what you're eating. Click here to download it: My Fitness Pal
Get up and get moving.  We have become a society that sits much more than our parents and grandparents did.  Technology has changed the world and we have to be willing to change with it. Many of us used to be physically active on the job but today quite a few of us sit at a desk all day me included.  It is up to you to make the time to get up and move during the day if you are able. Not only will you feel physically better, you'll have better focus and energy to get through the rest of the day. Instead of picking up the phone to get an answer to a question you have, walk over and talk to the person face to face.  Head outdoors on your breaks and for lunch and take a brisk 10 minute walk.  As you are doing with your food, track your activity also so you are certain to get your exercise in each day.  
Slow down!  We are so over-scheduled that we spend our days running from one thing to the next. We gulp down our food. We cut our sleep short. We rarely take time to enjoy our family and friends.  Leave one day a week unscheduled.  First thing you will notice? You are much calmer when you wake in the morning knowing you don't have to jump out of bed, get in the shower and scarf your breakfast down as you head out the door.  Just breathe and enjoy spending the day with your family and friends. You may decide to do something or you may decide to sit on the porch or have an impromptu BBQ.  Those are the moments memories are made of.
Keep a positive outlook on life.  I know, it may sound easier than it is and I tend to be an optimist but when you view life through a lens of negativity, it does affect your overall health and wellness. When you find yourself struggling, take a look around you.  Really look.  You will see people in worse scenarios than you currently are.  They may need a hand. Won't you give it to them? Helping others makes your problems feel smaller.  Next keep a gratitude journal and every evening, write down at least three people or things you are grateful for. At the end of the week, take a look back at what you've written.  These two simple exercises will help you have a more positive outlook on life along with helping you keep your stress in check.
Life can be challenging – that we all agree on. But like that famous book – "Don't Sweat The Small Stuff" our goal should be to enjoy every moment of every hour of every day that we are given in this beautiful world we live in.
To your health,
Denise
Upcoming Trip?
I like to use TripAdvisor for booking not only my hotels, but my tickets and rental cars as well. Makes life so much easier with only having to log into one location for my information.
Be sure to grab my travel tips to save you time and money. You'll also be entered into the weekly drawings.
Register here: Get 100 Travel Tips EVERY traveler should know PLUS entered into the weekly drawing.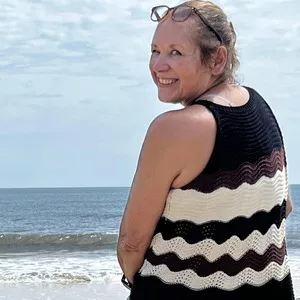 About Denise
Denise Sanger lives a life split between her love for fitness and her passion for travel particularly to the BEACH. Denise also has a love of marketing and lives in beautiful Suwannee County, Florida. You can find out more about Denise here: About Denise