Healthy from the inside out.
This article may contain affiliate links. Whenever you buy something through one of these links, I may earn a small commission without any cost to you. I really appreciate it as it supports this site and my family. Thank you!
For years I obsessed over how much I weighed. Would watch those little numbers on the scale swing up faster than they ever ticked down. Luckily, I was able to let go of my focus on those numbers and rely on I felt overall as my health barometer.
Many folks obsess over those numbers often giving those three little digits the power to make or break how they feel that day. Let's take control of our health and take back the power we've given to the scale. It's time to focus on getting healthy from the inside out.
A few things came into focus for me after my hysterectomy. It's hard to look at a scar that literally cuts through your abs and goes from one hip to the other hip. This also happens to women that have had a c-section while giving birth. You think to myself my tummy will never be the same again. (If you have had a hysterectomy, click here for my After The Hysterectomy Video Series on Youtube.)
To win this battle within yourself you need to step back and look at the big picture. In my case, it was feeling better than I had in several years. Literally getting my life back. For women that had a c-section giving birth, looking at that precious face is all the reason they'll ever need.
Thank you for reading this post. Don't forget to subscribe! This way you never miss an update, travel deals, discounts and more!! Subscribe to the right------>
When you look at the overall picture, we often wonder why we allow ourselves to be controlled by something as simple as numbers on a scale? Why are we not as focused on how we feel?
It might sound really simple but focusing on getting healthy from the inside out can make a big difference in how we see things. And it's not as hard as you may think. Here are a few simple tips to get you started looking at the big picture today:
Drink lots of water. That's right I sound like a broken record but this is my number one tip that I personally follow every single day. Fill up that water bottle and take it every where you go to make sure you drink the water your body needs.
Garbage in. Garbage out. Thinking of food as fuel for your body goes a long way in helping you make better food choices. Instead of reaching for chips when you want a snack, grab a piece of fruit. And count it towards the five to 10 servings of fruit and veggies we need to eat daily.
Sleep. Unfortunately, we are a sleep deprived nation but our bodies need rest to rejuvenate. I'll go into how important sleep is in a future article but skimping on rest is not only linked to poorer physical health, but also mental health. (Read this next if weight loss is on your list: Healthy Living: Why Sleep Is Important)
Exercise. Exercise for me is not only for my physical body but for my mental health as well. I find I am short tempered and less patient on days I don't exercise. Find something you like to do and do it. It's that simple.
Feeling my best is freedom for me. Freedom to live my life and explore this beautiful world we live in. What does feeling your best mean to you? When you figure that out, the rest falls into place. Living my life healthy from the inside out.
To your health,
Denise
p.s. Plan for success. A friend got this and said how amazing it was that I ordered it too. I have to say I love this Metabolic Cookbook. It helps:
Save money and waste less food
Thousands of recipes so you'd find ones that fit your family
Healthy meal ideas and plans for no-guilt mealtimes. Makes weight loss easy.
Upcoming Trip?
I like to use Booking for booking not only my hotels, but my tickets and rental cars as well. Makes life so much easier with only having to log into one location for my information.
Be sure to grab my travel tips to save you time and money. You'll also be entered into the weekly drawings.
Register here: Get 100 Travel Tips EVERY traveler should know PLUS entered into the weekly drawing.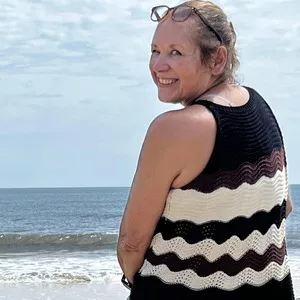 About Denise
Denise Sanger lives a life split between her love for fitness and her passion for travel particularly to the BEACH. Denise also has a love of marketing and lives in beautiful Suwannee County, Florida. You can find out more about Denise here: About Denise