This article may contain affiliate links. Whenever you buy something through one of these links, I may earn a small commission without any cost to you. I really appreciate it as it supports this site and my family. Thank you!
Exercises for arthritis helps manage pain.
Not sure about you but I've been loving the cooler temps especially in the morning. It has been cool enough that I have had to pull on my ratty old Cleveland Indians sweatshirt that my mother keeps trying to throw away. It has to be at least 30 years old and feels like an old friend when I pull it on in the morning. I have to tell mom no one is going to see it; I'm not walking a runway. I'm feeding the horses and they don't care what I look like at 6 a.m.
One thing I have noticed with the cooler temps though is joint pain specifically in my hips and knuckles. I keep thinking to myself it can't be arthritis but it does seem to tick up a notch when the temps cool down.
What's the best way to deal with arthritis pain? You keep on keeping on. Meaning you keep moving. Exercise is crucial for folks dealing with arthritis. Not only does it increase strength and flexibility, it reduces pain as well.
It's not easy though to get up and move when you're in pain from arthritis. The thought of taking a 10 minute walk can feel overwhelming. But that's exactly what you need to do. Here are a few reasons why you have to be tougher than your excuses:
Thank you for reading this post. Don't forget to subscribe! This way you never miss an update, travel deals, discounts and more!! Subscribe to the right------>
Exercise strengthens the muscles surrounding your joints.
Exercise provides energy to help you navigate through your day.
Helps maintain bone strength.
Improves balance.
You may think exercising will hurt more than help if you have arthritis, but those are pretty good reasons to make exercise a part of your day in general. When you're dealing with arthritis, lack of exercise may actually make your joints more stiff and painful.
First check with your doctor or primary care giver about including exercise in your treatment plan. Once you have the all clear, you want to include range of motion exercises, strengthening exercises as well as cardio exercises. The following exercises for arthritis are a great place to start:
Stretching exercises such as yoga or Tai Chi. I feel 1000% better after my morning Gentle Flow Yoga session and yes I do yoga almost every day. (Read this next: I bend so I don't break. Yoga for seniors.)
Walking. Walking is a low impact exercise that not only helps with joint flexibility and strength, it works your heart too. Winning combination.
Water exercises such as those done in a water aerobics classes or simply walking in the water. The water provides gentle resistance which helps you strengthen your muscles and joints.
To get the benefits of exercise, consistency is key. Yes it may be more difficult some days than others, but you need to pull on your big girl or big boy panties and just do it as Nike says. Get up. Get moving. Have an amazing week.
To your health,
Denise
Upcoming Trip?
I like to use Booking for booking not only my hotels, but my tickets and rental cars as well. Makes life so much easier with only having to log into one location for my information.
Be sure to grab my travel tips to save you time and money. You'll also be entered into the weekly drawings.
Register here: Get 100 Travel Tips EVERY traveler should know PLUS entered into the weekly drawing.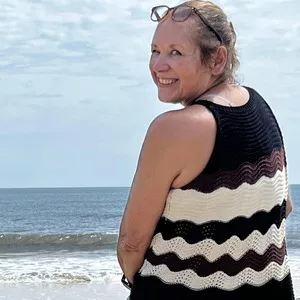 About Denise
Denise Sanger lives a life split between her love for fitness and her passion for travel particularly to the BEACH. Denise also has a love of marketing and lives in beautiful Suwannee County, Florida. You can find out more about Denise here: About Denise