Everyone starts somewhere.
This article may contain affiliate links. Whenever you buy something through one of these links, I may earn a small commission without any cost to you. I really appreciate it as it supports this site and my family. Thank you!
Mom is here for the winter.  She comes down from Ohio usually the end of December/beginning of January depending on if she's traveling to see my brother or sister.  She timed it perfectly this year since the midwest and northeast have been getting slammed with winter storms. Last we heard from my sister in Cleveland, they had more than eight inches on the ground yesterday and the snow was still coming down.
While mom is here, you will find her at the gym, catching up with friends as they travel around north central Florida seeing this or that or on days she's relaxing, watching movies on the Hallmark Channel. I walked in during a movie she was watching a few days ago and heard the lead actress say "everyone starts somewhere."  I thought to myself that is such a true statement. Does not matter what you are trying to accomplish or what goal you want to reach, you have to start somewhere.

We often get ahead of ourselves stressing about everything we "think" we need to do to reach our goals that we simply forget that what we need to do first is start.  Not worry about about what is happening two months down the road.  Focus right where we are today and begin.
An Olympian spends years training before they reach the elite levels of the Olympic. A bodybuilder does not decide one day to walk up on stage and compete.  A marathon runner does not decide from one day to the next that he/she is going to run a marathon.  In all cases, they make a decision that they have a goal they want to reach then take the first step towards reaching that goal. They start.
The bodybuilder will clean up their nutrition to lean out while focusing on building muscle.  The runner will determine the miles they need to cover weekly while they build endurance to run 26.2 miles in a marathon.  In both cases, it may take months or even years before they feel ready to compete in their sport.
The same applies to any fitness goal we may have whether it is losing weight or getting stronger.  You must decide to take that first step and start. If living a healthier lifestyle is your goal, here are five simple steps that will help you move forward:
Start today.
Choose water as your beverage.
Eat more fruits and vegetables.
Sleep at least 7 – 8 hours each night.
Get active for an hour or more each day.
Not only will you feel better when you start your journey to a healthier lifestyle, you will be happier and look better too.  Have a wonderful week!
To your health,
Denise
p.s. If weight loss is where you want to focus, I recommend you read this post – click here:  5 Simple Things To Do To Lose Weight. 
Upcoming Trip?
I like to use TripAdvisor for booking not only my hotels, but my tickets and rental cars as well. Makes life so much easier with only having to log into one location for my information.
Be sure to grab my travel tips to save you time and money. You'll also be entered into the weekly drawings.
Register here: Get 100 Travel Tips EVERY traveler should know PLUS entered into the weekly drawing.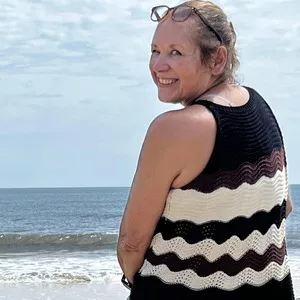 About Denise
Denise Sanger lives a life split between her love for fitness and her passion for travel particularly to the BEACH. Denise also has a love of marketing and lives in beautiful Suwannee County, Florida. You can find out more about Denise here: About Denise