10 Easy Ways To Reduce Stress
This article may contain affiliate links. Whenever you buy something through one of these links, I may earn a small commission without any cost to you. I really appreciate it as it supports this site and my family. Thank you!
Seems like every few months, my stress level goes through the roof. This is one of those months. I had to learn REAL quick, fast ways to reduce stress.
We live in such a hectic, crazy world that it is easy to feel ourselves becoming anxious which in turn leads to us feeling stressed and out of balance.
We know stress is not good for many reasons. It often leads to bad choices ranging from overindulging in foods or alcoholic beverages to sleepless nights.  Add premature aging to the mix, and we quickly understand how important it is to reduce stress before it gets out of control.
Here's the reality. It's sounds good in theory to say we need to reduce our stress. What is not so easy is making it happen.  The BEST way to get our stress under control is to take time to relax.  Unfortunately, in this crazy world, we believe that we don't have time to relax, or we feel lazy and unproductive when we do take a day off.  Nothing can be further from the truth when it comes to our health.
Because we are so busy, we may need to schedule some time into ours calendar as we would all our appointments.  Literally open your calendar or if you keep your appointments on your phone, grab it and put a big X or schedule an hour when you will simply relax.  Do whatever you need to do to schedule one hour during the week for you.
10 Easy Ways To Reduce Stress
Take a bath with essential oils.  Baths are beneficial for many reasons but one of the biggest is that you are forced to unplug. Fill up the tub with warm bubbly water and wonderful smelling oils, place a pillow or towel behind your head, close your eyes and simply enjoy a good long soak in the tub.
Take a walk.  Being outdoors and appreciating this beautiful world is an instant stress reliever. I love nothing more than an early morning walk on the country roads surrounding my house listening to the sounds of the world waking up.
Turn up the music and dance. And the crazier the dance moves, the better you will feel.  There is something very freeing about dancing that is guaranteed to put a smile on your face.  Include the kids and make it a family dance off.
Unplug from social media for the day. Trust me.  The world will continue whether you check into Facebook or Instagram.
Unplug from the news.  This is a huge one for me.  I find that when I am stressed, watching or listening to the news is guaranteed to ramp my stress up even more.  Simply turn it off.
Walk your dog or pet your cat.  Study after study has shown that pets add so much to our lives and playing with or petting your dog, cat or other pet is a great way to reduce stress.
Go to the movie – alone.  Sometimes you need some alone time. What better way to get it than to go see a movie that your significant other does not want to see.  Imagine two to three uninterrupted hours where all you have to worry about is whether to get popcorn with or without butter. Sounds amazing to me!
Have a friends night out.  I have a girls weekend on my calendar and I'm lucky that my hubby prefers to stay behind so I don't need to worry about who will take care of the horses and the dogs.  Spending time with great friends laughing about nothing in particular will quickly put a smile on your face.
Try something new.  When you focus on learning something new, you take the focus off yourself and what is going on in your life.  What have you always wanted to try?  Knitting? Painting? Kayaking? Make it happen.
Act like a kid.  Jump in puddles.  Go to the park and swing on the swings. Throw a ball or frisbee for your dog.  Grab your kids or tag along with a friend who has kids and see how they spend the day. There is something freeing about playing tag or hide n seek with kids that will have you enjoying the moment instead of worrying about tomorrow.
These are only a few ways to reduce stress in your life.  When you MAKE the time to take care of yourself, you will find it easier to take care of those you love.
Upcoming Trip?
I like to use TripAdvisor for booking not only my hotels, but my tickets and rental cars as well. Makes life so much easier with only having to log into one location for my information.
Be sure to grab my travel tips to save you time and money. You'll also be entered into the weekly drawings.
Register here: Get 100 Travel Tips EVERY traveler should know PLUS entered into the weekly drawing.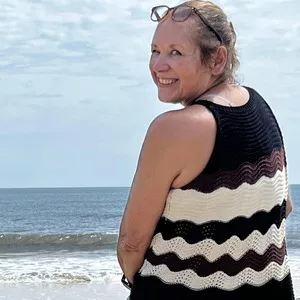 About Denise
Denise Sanger lives a life split between her love for fitness and her passion for travel particularly to the BEACH. Denise also has a love of marketing and lives in beautiful Suwannee County, Florida. You can find out more about Denise here: About Denise